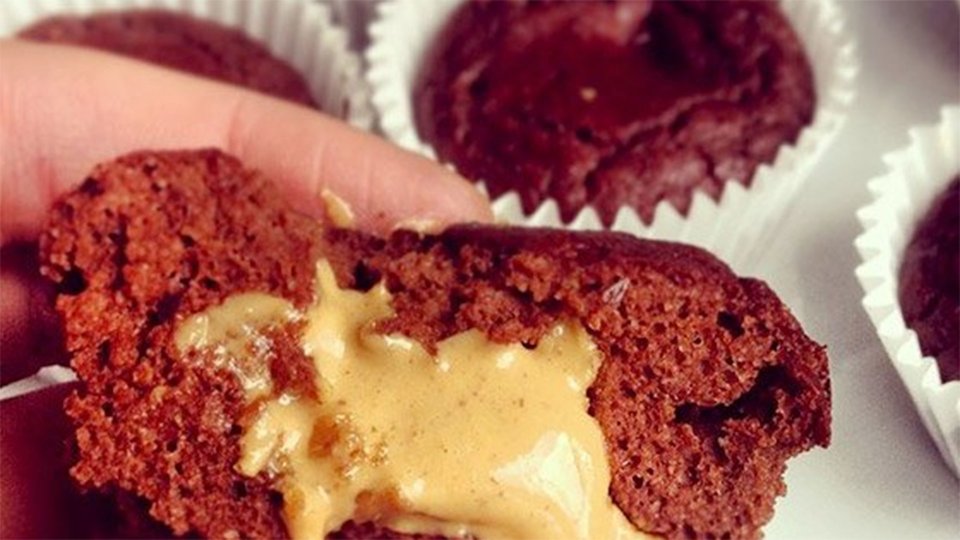 Delicious chocolate protein cupcakes filled with a melting peanut butter center? Need I say more? I don't think I do. So let's cut to the chase.
Ingredients
½ cup Optimum Nutrition Gold Standard 100% Whey, Double Rich Chocolate
½ cup oat flour
¼ cup cocoa powder, unsweetened
1 tsp baking powder
170 g nonfat plain Greek yogurt
1 whole egg
1 egg whites
¼ cup unsweetened almond milk
⅓ cup granulated Stevia
⅓ cup natural peanut butter
Directions
Preheat the oven to 350F (180C).
Combine all the ingredients except the peanut butter in a food processor.
Divide the mixture between nine cups in a cupcake tin. Then pop a teaspoon of peanut butter in each and push it down so it is submerged.
Bake the cupcakes for around 10-15 minutes until they're cooked through. They're best eaten fresh from the oven. If you have any leftovers, microwave them later to re-melt the peanut butter center.
Pro tip: No need to run out to the market for oat flour! The oat flour can be made by blending up oats in a food processor. It can also be substituted for brown rice flour or almond flour in other recipes.