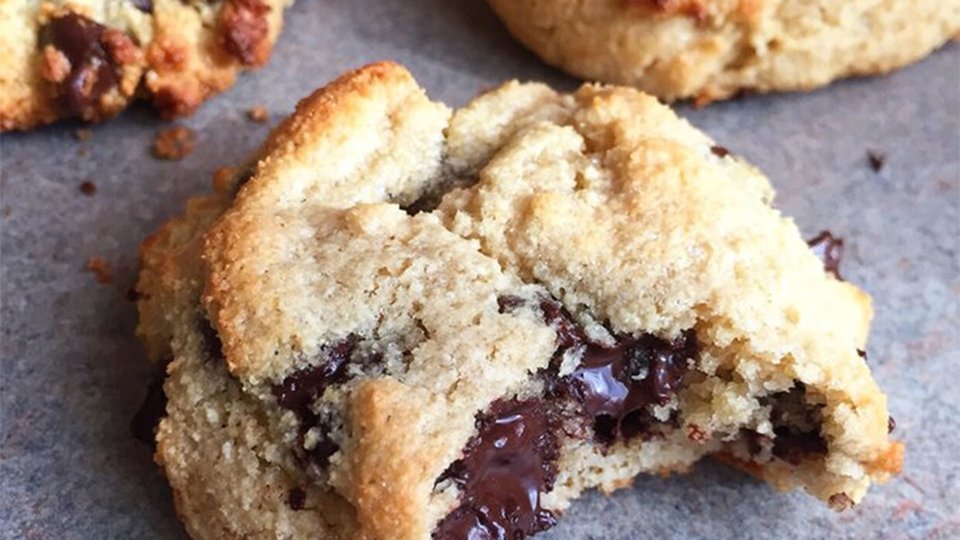 After countless failed tries, I finally made chocolate chip protein cookies that aren't "weird." In fact, they're epic! These have everything you love about classic chocolate chip cookies: the drool-worthy flavors of butter, brown sugar, and vanilla; the melty chocolate chips; the soft and chewy middle; and the crisp golden edges. The best part? These cookies have an equal protein-to-carb ratio, and are lower in fat than your typical cookies. Each gooey morsel is only 75 calories!
Ingredients
60 g vanilla whey protein powder
6 tbsp coconut flour
2 tbsp Pyure organic stevia blend
2 tbsp Splenda, brown sugar blend
½ tsp baking soda
1 egg
1 oz dark chocolate chips
¼ cup light butter spread
¼ tsp vanilla extract
⅛ tsp table salt
Directions
Preheat oven to 350 degrees F.
Whisk together dry ingredients in a mixing bowl.
Mix in wet ingredients to form a dough.
Fold in chocolate chips.
Lightly coat baking sheet with cooking spray.
Place 12 rounded tablespoons of dough onto sheet a couple inches apart. Press flat just slightly.
Bake for 8-10 minutes until edges are golden brown. Enjoy!