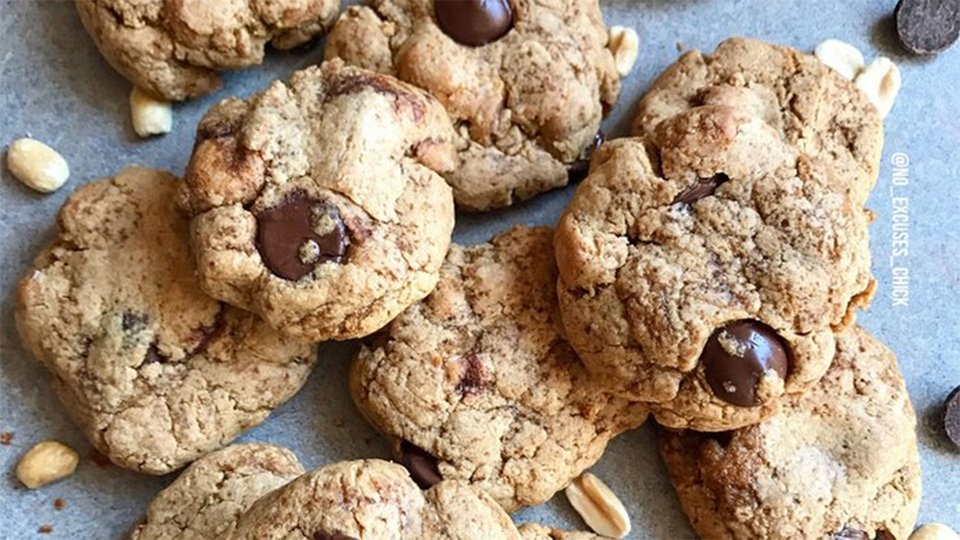 I think we can agree chocolate and peanut butter are a match made in heaven, right? Well, these cookies taste heaven-sent: surprising, because I kind of threw this recipe together! It's not often that things come out perfect on the first try. These cookies are thick and chewy, with a crunchy outside and gooey chocolate chips inside. It took all my willpower not to eat them all at once!
Ingredients
50 g vanilla whey protein powder
50 g powdered peanut butter
2 tbsp splenda, brown sugar blend
¼ cup natural peanut butter
¼ cup sugar-free maple syrup
2 tbsp liquid egg whites
¼ tsp vanilla extract
1 oz dark chocolate chips
1 bar labrada Lean Body Protein Bar, Peanut Butter Chocolate Chip
½ tsp table salt
Directions
Preheat oven to 350 degrees F.
Whisk together dry ingredients in a medium mixing bowl.
Mix in peanut butter, syrup, egg white, and vanilla until a dough forms.
Mix in chocolate chips and chopped-up protein bar.
Bake for 10-12 minutes until firm on the edges. The center will set once the cookies cool.
Enjoy immediately, or store in the fridge up to one week (freezing not recommended).