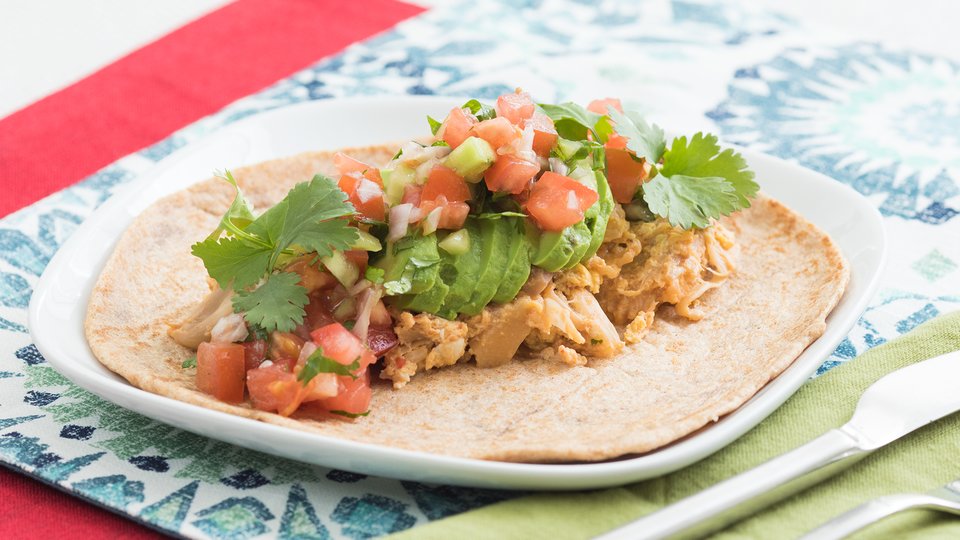 These quick and easy breakfast tacos use meatless jackfruit "carnitas" as their base and homemade pico de gallo for garnish, but to save time you can always substitute a store-bought salsa instead. To make this meal gluten-free, swap out the flour tortillas for corn, and if you prefer a completely vegan option, scramble up tofu instead of eggs.
Pico de gallo Ingredients
1 tomatoes
¼ red onion, sliced
1 jalapeno pepper, diced
¼ cup cilantro
1 tbsp lime juice
1 tsp table salt
1 tsp olive oil
jackfruit scramble Ingredients
1 package upton's naturals chili lime carnitas jackfruit
2 egg
4 flour tortilla
Directions
For the pico de gallo: Combine the tomato, onion, jalapeno, cilantro, lime juice, and a pinch of salt in a bowl and toss to combine. Let sit so the flavors can marry.
Heat a pan and add a little bit of olive oil. Add jackfruit and sauté for about 4 minutes.
Beat the eggs in a bowl and drop into the pan with the jackfruit, scrambling them as they cook.
In a hot skillet without oil, heat the tortillas for about 30 seconds on each side. Fill tortillas with jackfruit scramble, and top with pico de gallo.