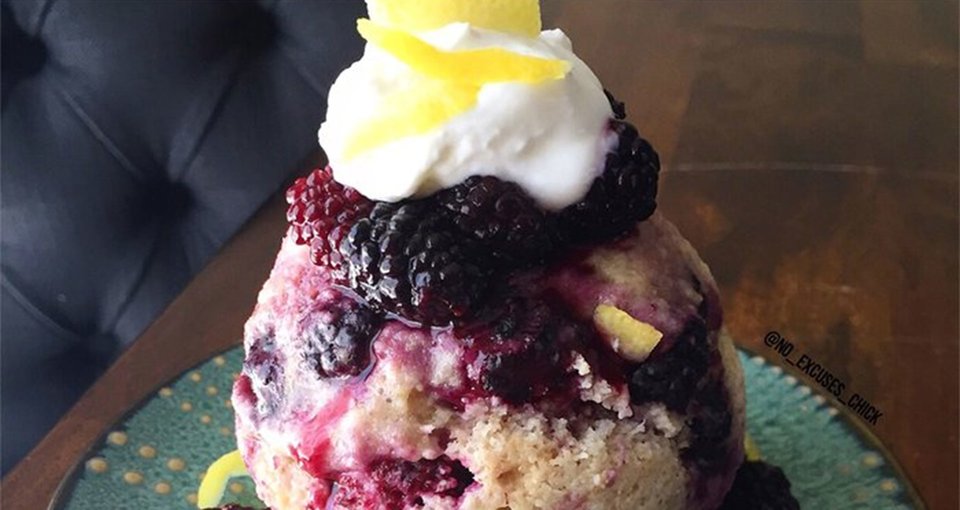 This scrumptious blackberry lemon mug cake is macro-friendly and ready in less than 5 minutes. In my case, it came out so piping hot and delicious that it didn't even last 2 minutes after taking pretty pictures! The mug cake is about the size of a large muffin, so it's satisfying for 250 calories. This would make the perfect dessert when you're craving something fruity, but it also serves as a delicious breakfast! Yes, I eat cake for breakfast…often.
Ingredients
20 g vanilla whey protein powder
¼ cup baking Stevia
3 tbsp oat flour
1 tbsp almond flour
¼ tsp baking powder
2 tbsp egg whites
2 tbsp unsweetened applesauce
1 tbsp unsweetened almond milk
1 tsp lemon juice
1 tsp lemon zest
¼ tsp vanilla extract
¼ cup blackberries
Directions
Combine dry ingredients in a small bowl.
Mix in wet ingredients.
Gently stir in blackberries, and set aside.
Lightly spray an oversized mug with cooking spray, then pour batter into mug.
Microwave for 2-3 minutes, until set.
Dump your cake onto a plate and add desired toppings. Enjoy!