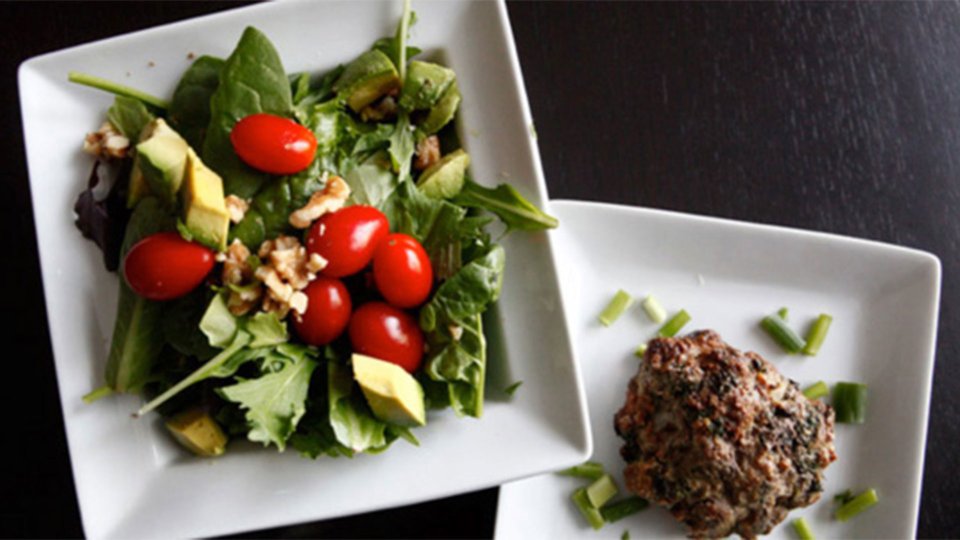 The Paleo principles are simple: if you can grow it or kill it, eat it. If it's been processed, don't. Here are six meals for one full day of Paleo perfection!
Bison Burger Ingredients
1 lb bison, ground
1 shallots
2 whole jalapeno pepper, diced
1 whole egg
3 clove garlic, minced
salt and pepper to taste
Greens Salad Ingredients
1 cup salad greens
½ cup cherry tomatoes
½ cup walnuts, chopped
¼ avocado
1 tbsp walnut oil
1 tbsp balsamic vinegar
Directions
Turn oven to broil. Arrange rack so baking pan is close to heat.
Cover baking pan with aluminum foil and set aside.
Combine all ingredients and form into patties.
Place patties on the center of the baking pan and broil for 6-8 minutes. Flip and broil for another 6-8 minutes.
When both sides are golden brown, remove from oven.
For salad: Place all vegetables in a plate or salad bowl and mix. Top salad with walnuts, walnut oil, and balsamic vinegar.