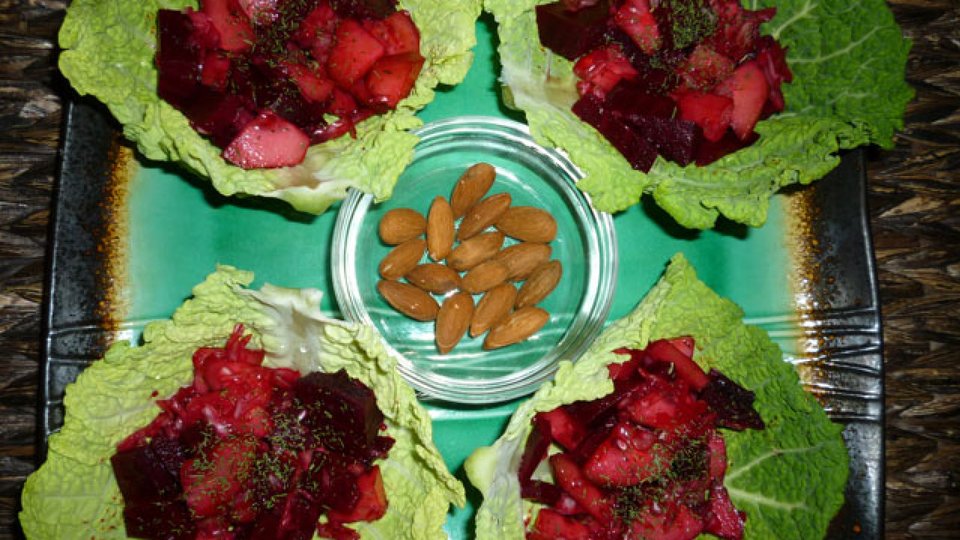 Here is a fresh and healthy recipe that you won't find anywhere because I made them up. I have flipped through many pages of wonderful cook books and twisted the ingredients around to make every dish delicious and very healthy to enjoy! I hope you find my recipes tasty.
Ingredients
2 beet (2" dia) beets
1 cucumber (8-1/4") cucumber, chopped
2 tbsp rice wine vinegar
4 leaf red cabbage
1 tbsp fresh dill
¼ cup whole kernels almonds
1 dash sea salt
¼ tsp sugar
½ cup sauerkraut
Directions
Steam beets for 15-20 minutes (depending on how tender you prefer). Rinse with cold water. Set aside.
Mix cucumber, sauerkraut, dill and rice wine vinegar in a bowl. Add a dash of raw sugar and sea salt is optional for taste.
Chill all of the ingredients scoop ingredients into cabbage leaf cups.
Garnish with a small portion of almonds in the center of dish for extra crunch. You may add slivered or whole (raw or roasted) almonds over cabbage cups.