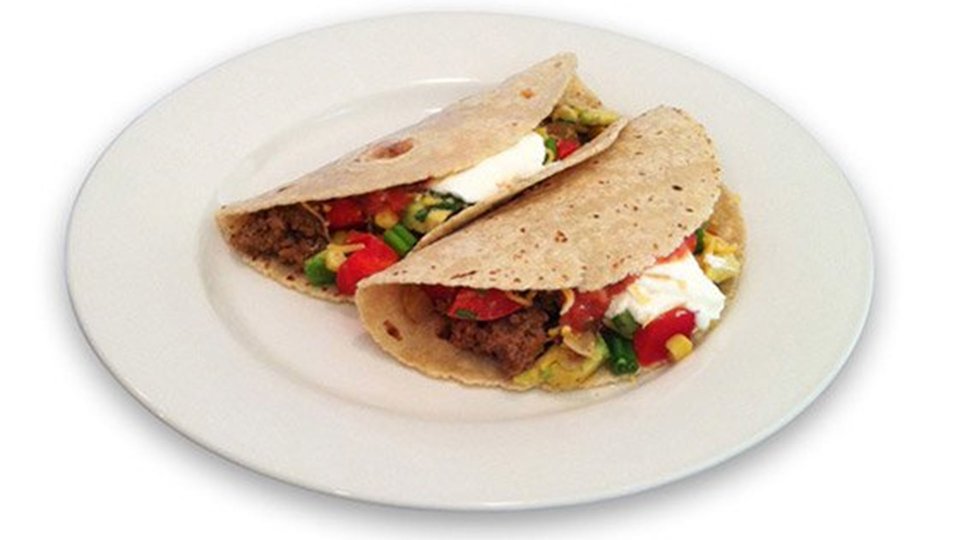 Don't steer clear of big bad ground beef. Choose a lean variety and start experimenting!
Ingredients
1 lb lean ground beef
1 packet reduced-sodium taco seasoning
1 onion, finely diced
1 cup water
4 whole wheat soft tortillas
½ cup reduced-fat sour cream
½ cup salsa
¼ cup, shredded low-fat cheddar cheese
½ cup diced red bell pepper
½ cup onion, finely diced
½ cup, chopped or sliced tomatoes
1 cup lettuce
Directions
Brown the ground beef and onion in a skillet over medium heat.
Stir in the taco seasoning mix and water and let simmer for 4-5 minutes.
Remove from heat and allow to cool slightly.
Once cooled, spoon beef into soft tortilla shells and top with sour cream, salsa, cheese, shredded lettuce and diced veggies.
Wrap and serve.