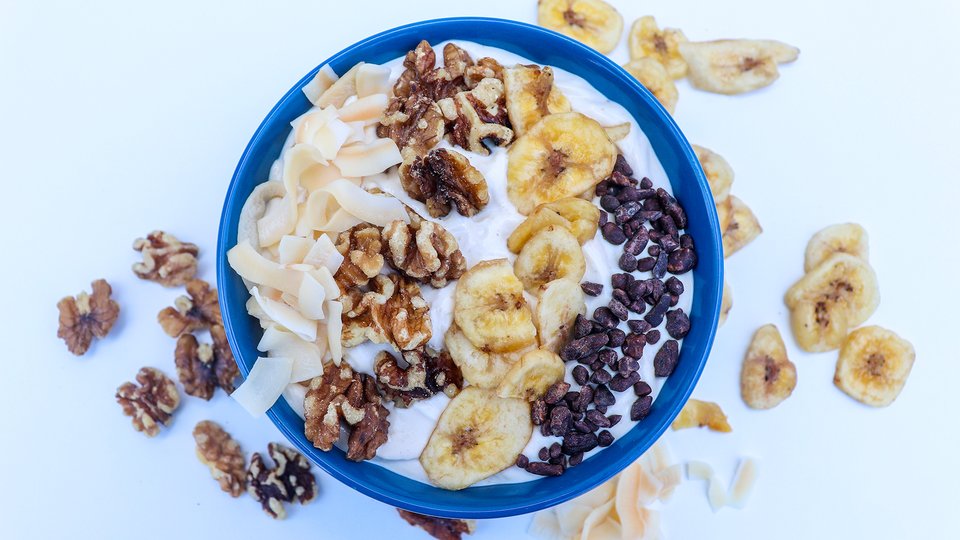 This extra-thick smoothie has what it takes to help you recover after a hard workout. Crunchy options for toppings include walnuts, coconut chips, cacao nibs, and/or chopped banana chips. To freeze bananas for all your smoothie needs, peel ripe fruit, chop into 2-inch chunks, and spread out on a baking sheet. Place sheet in the freezer until bananas are frozen, then store in a zip-close bag. Here is another tip: To keep your thick smoothie from turning into smoothie soup, serve in a frosty bowl.
Ingredients
¼ cup milk (2% fat)
½ cup nonfat plain Greek yogurt
1 scoop(s) vanilla whey protein powder
2 tsp natural almond butter
2 tsp sugar-free maple syrup
½ tsp vanilla extract
1 large (8" to 8-7/8" long) banana, frozen
Directions
In the order listed above, place all the ingredients in a blender container. Blend until smooth and thick.
Pour into a chilled serving bowl and garnish as desired. Optional garnishes: walnuts, coconut chips, cacao nibs, chopped banana chips.