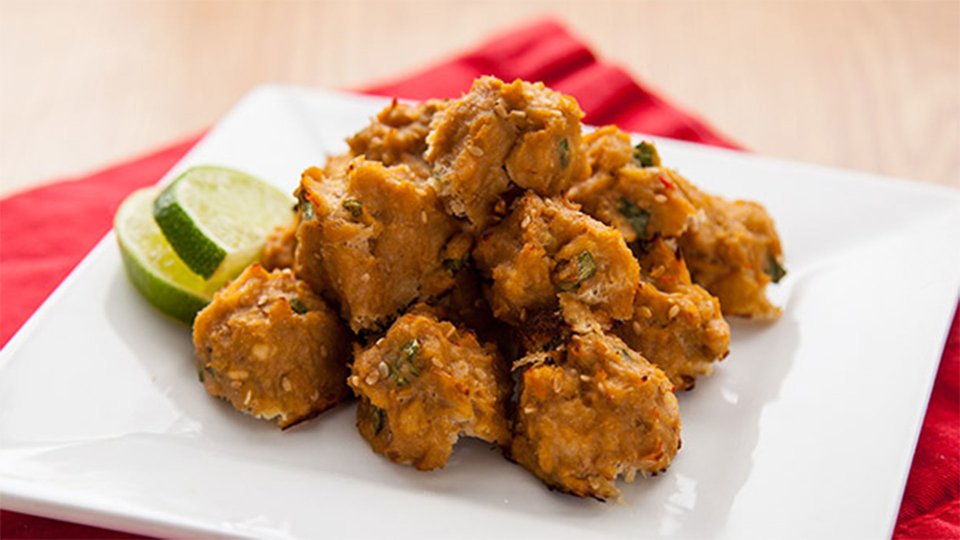 These portable protein balls are stuffed with star-studded tuna, which will ensure you're reeling in high-quality protein with each bite! Plus, they've got just enough Asian-inspired zing to get you out of your seat yelling for your team—and then heading back to the table for more. Try to prep these guys ahead of time, aiming to have them finished cooking 15 minutes before kickoff so everyone can enjoy them warm.
Ingredients
1 potatoes
10 oz albacore tuna
1 egg
2 tbsp sesame seeds
1 scallions, sliced
2 tbsp lime juice
2 tbsp light soy sauce
1 tbsp ginger, minced
1 tbsp fish sauce
2 tsp red chili sauce
Directions
Preheat oven to 350 degrees F.
Steam or boil potato until tender.
Place potato in a large bowl and mash.
Stir in all other ingredients.
Form into balls slightly smaller than a golf ball. You should have about 16 balls.
Arrange on a lightly greased or parchment-paper-lined baking sheet and bake for 35-40 minutes, or until browned and crispy on the outside.