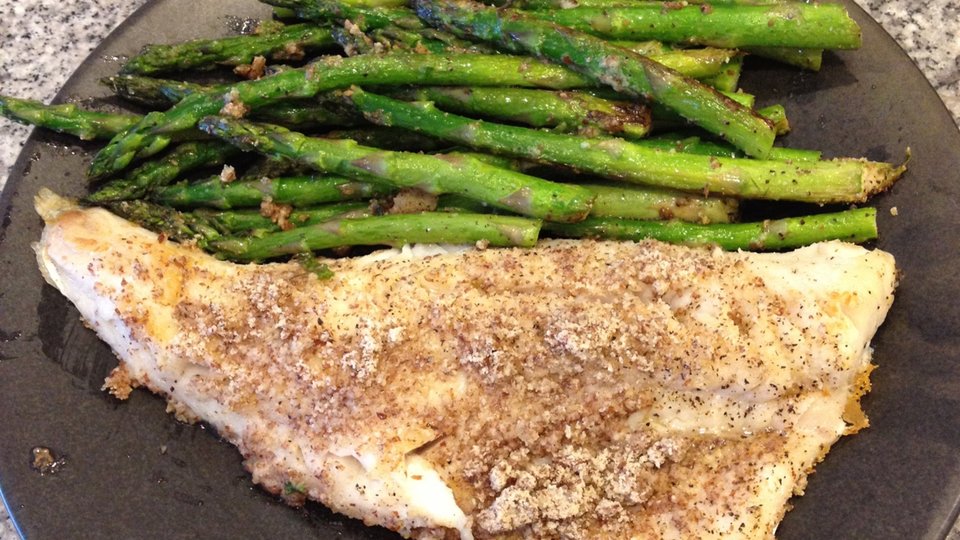 I love using palm oil when cooking white fish. It makes the fish a little crispy and adds great flavor. The walleye pike is among the leanest freshwater fish you can get. A lot of white fish—sea bass and cod, for example—go well with almond meal, so mix up your protein sources!
Ingredients
2 fillet walleye pike fillet
1 lb asparagus
½ cup almond meal
2 tbsp palm oil
2 tbsp almond oil
salt and pepper to taste
Directions
Directions for fish: Preheat a skillet on medium heat.
Coat skillet with 1-2 tbsp of palm oil.
In a pie dish, add almond meal, sea salt, and pepper to your liking.
Coat fish with almond meal breading.
Pre-heat skillet; add in fillets.
Cook 3-4 minutes on each side.
Directions for asparagus: Preheat a second skillet.
Coat with 1-2 tbsp almond oil.
Add asparagus to skillet.
Season with sea salt and pepper.
Cover and cook over medium heat until sizzling, then reduce heat to low until asparagus is tender, not mushy. This takes approximately 12-20 minutes.
Squeeze lemon juice over both fish and asparagus when done.