FITNESS TAKES OVER THE CITY OF ANGELS
Where
Los Angeles Convention Center
South Halls G, H, J, and K
1201 South Figueroa Street
Los Angeles
When
January 7-8, 2017
10 a.m.-6:00 p.m. Saturday
10 a.m.-5 p.m. Sunday
TheFitExpo Los Angeles is the best place to pick up new training techniques and advice, get face-to-face with your favorite fitness personalities, and check out exciting competitions.
Why Stop By
This is your chance to pick up the best swag in the game, including T-shirts, samples of your favorite supps, and other free gifts. You'll also have a chance to meet your favorite TEAM Bodybuilding.com athletes and grab an autograph. When you're done, see some of the top up-and-coming athletes at the 2017 Bodybuilding.com Spokesmodel Search competition — we'll be crowning our two newest winners at TheFitExpo!
Team Athletes
OUR TEAM ATHLETES WILL BE THERE
AMANDA BUCCI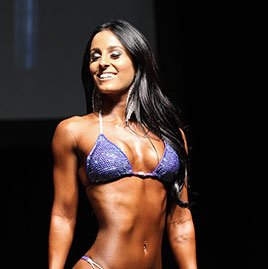 Amanda Bucci is an NPC bikini competitor and a fitness, lifestyle, and nutrition coach with a degree in nursing. She began her fitness journey in college, when she discovered bodybuilding and began competing. She's the author of "The Everything Guide to Macro Tracking" e-book and inspires through her YouTube channel.
TAYLOR CHAMBERLAIN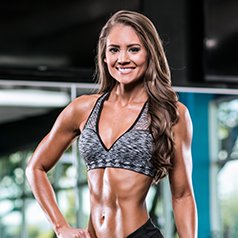 Taylor Chamberlain comes from a bodybuilding family (her parents were competitive bodybuilders) and now competes herself — in fact, she was a Bodybuilding.com Spokesmodel Search finalist in 2016. A certified personal trainer with a dietetics degree from Purdue University, Taylor now helps others transform through her online business, creating customized meal plans, macro coaching, and developing fitness programs for people all over the world.
KATRINA FREDS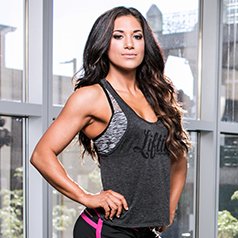 Katrina is a country girl from Hamilton, Indiana, who has sculpted her body at home in her own gym, her two "fur babies" by her side. An avid lover of hunting, fishing, and anything having to do with the outdoors, she's also an IFBB Bikini Pro who spends her Saturdays baking at home. A few cheats here and there are all part of her balanced lifestyle — and she's looking forward to showing other people that they can live one, too.
MIKE GONZALES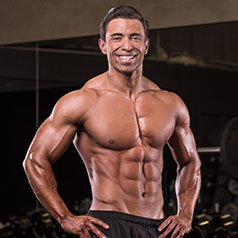 Michael (he also responds to "Fluff" or "Fluff Chronicles") is a WBFF Pro from Kansas City, Missouri, with a devoted social media following — and he shares everything with them. Good days, bad days, ups and downs: Michael shares them all because he wants to keep it real. "Fitness is a lifestyle," he says. "It's a choice. It doesn't have to be boring and super clean. It's all about moderation."
Kizzito Ejam
This charismatic fitness model specializes in krav maga and tae kwon do. He credits weight training with helping him become faster, stronger, and leaner, making him an unstoppable force on the mat. Kizzito is also the creator of the recent Chiseled Training Program on Bodybuilding.com.
Brian Casad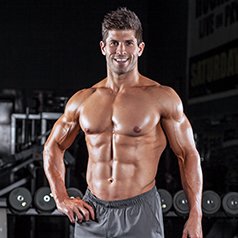 Brian's decision to don a pair of boxing glove led to 40-pound weight loss and the realization that fitness was his passion. He gave up everything to purchase a boxing club and has been an inspiration since becoming the 2013 Bodybuilding.com Spokesmodel Search male winner.
PHIL RZEPKA
Fitness became Phil Rzepka's saving grace after a rough start out of high school, when he experimented with drugs and got into a few scrapes with the law. Now a certified personal trainer, he'll soon be backing up his experience with a degree in health and human sciences with an emphasis on pre-physical therapy. Phil is an IFBB Pro and was a finalist in the 2016 Bodybuilding.com Spokesmodel Search.
RODNEY RAZOR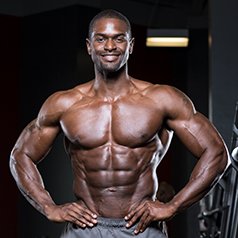 Rodney Razor's fitness career skyrocketed after he dropped more than 30 pounds and 10 percent body fat. He has since earned his IFBB Pro card, opening doors left and right: He was Bodybuilding.com's 2014 BodySpace Spokesmodel Search male winner, and he's sponsored by Bodybuilding.com, Pro Tan, and 6 Pack Fitness Bags.
Ashley Horner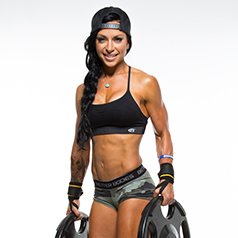 Ashley is a widely recognized and passionate proponent of the fit life. She's a triathlete, a magazine columnist, founder of the Unbroken Movement Foundation, and creator of Becoming Extraordinary e-book trainers, Transform You Challenges, SledPups.com, and much more.
JEROME FERGUSON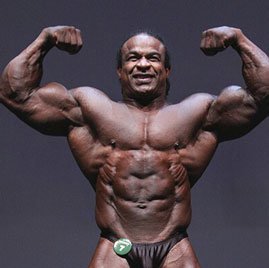 Jerome "Hollywood" Ferguson is one of the most recognized — and fun-loving — pro bodybuilders in the IFBB. He has been a bodybuilding competitor since 1994 and has the highlight reel to prove it: Mr. Los Angeles, Mr. San Diego, Mr. Max Muscle Natural, and a runner up in both the North American Championships and Mr. USA. A personal trainer for more than 15 years, Hollywood is the proud owner of Fit 4 Life Personal Training Systems.
Chassidy Smothers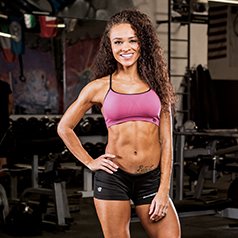 Despite being a former basketball player and a soldier in the U.S. Army, Chassidy didn't achieve the body of her dreams until her husband introduced her to the iron. Lifting was the key to transforming her body and mind. She began entering bikini contests with the idea that she would be fearless, no matter what she placed — and after several attempts, she won her IFBB pro card! "Bodybuilding has helped me to feel limitless," she says. Now as a certified personal trainer, she spends her time helping others achieve their health and fitness goals both in-person in Sacramento, CA and through her workout page.
Raynor Whitcomb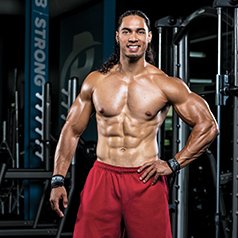 Raynor Whitcombe's personal journey has taken him halfway around the world — and landed him as a BodySpace Spokesmodel Search 2015 winner! Raynor hails from American Samoa but has trained in New Zealand and now Colorado, where he makes his home. He started his fitness journey as a high school football player, and now wants to share his passion for health, fitness, and the endless possibilities life has to offer – especially with his fellow Polynesians.
Caryn Paolini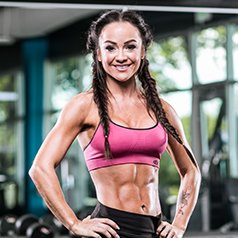 Caryn may be only 4'11 and 95 pounds, but she pulls some serious weight on stage. This 2013 Bodybuilding.com Fit USA winner is a fierce competitor who has found a community among bodybuilders. A former gymnastics and cheerleading phenom, Caryn was raised with healthy habits but lost her footing during college — leading to years of self-doubt and poor nutrition choices. She discovered her purpose when she hit the iron, and now says her ultimate passion is sharing her story to motivate and uplift others who are struggling.

Attending?
Complete Event Info
You can find everything you need to know about tickets, competitions schedules, exhibitors, directions, parking, and more on TheFitExpo website.
Learn More
TheFitExpo Los Angeles is California's largest fitness weekend and features over 700 booths, 20 incredible competitions, celebrity athletes and experts representing all aspects of health, fitness, sports, and well-being..
TheFitExpo provides a vast array of programming elements all under one roof including; Power and Strength Competitions, Group Exercise Classes, Fashion Shows, CrossFit, Martial Arts, Kids Zone, and the Healthy Eating & Living Pavilion... to name but a few! Attendees can participate in competitions, shop, learn and even take classes all for one low ticket price. We strive to always be on the cutting edge of fitness by introducing new concepts and ideas to our audience.
Save $10 on Admission!
Click to download this coupon, print it out, and bring it with you to TheFitExpo to save $10 off your admission each day!