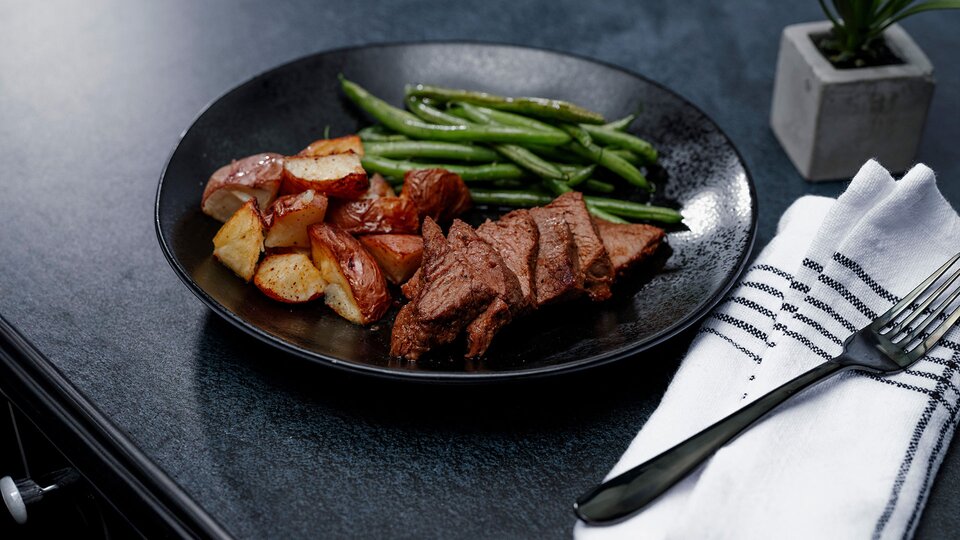 After we hand-trim our tri-tip, it is seasoned with our proprietary Texas rub (a recipe of 12 ingredients), and then put in the combi-oven for a dry sear. After that, it is slow cooked until done at 135°F. The tri-tip is then hand-cut to maximize tenderness.
Ingredients
1 serving Texas Rub Tri Tip
1 serving Tri-Tip Marinade
⅜ cup, diced red Potatoes
½ tbsp extra virgin olive oil
1 cup green beans
Directions
Cut potatoes into chunks, toss with olive oil and oregano.
Bake in oven for 15 minutes at 325°F.
Sauté green beans for 2 to 3 minutes.
Remove plastic from Texas Rub Tri-Tip package.
In a skillet, add one serving of protein and a portion of the tri-tip marinade and heat for 2 minutes, stirring every 30 seconds.
Plate up and serve!