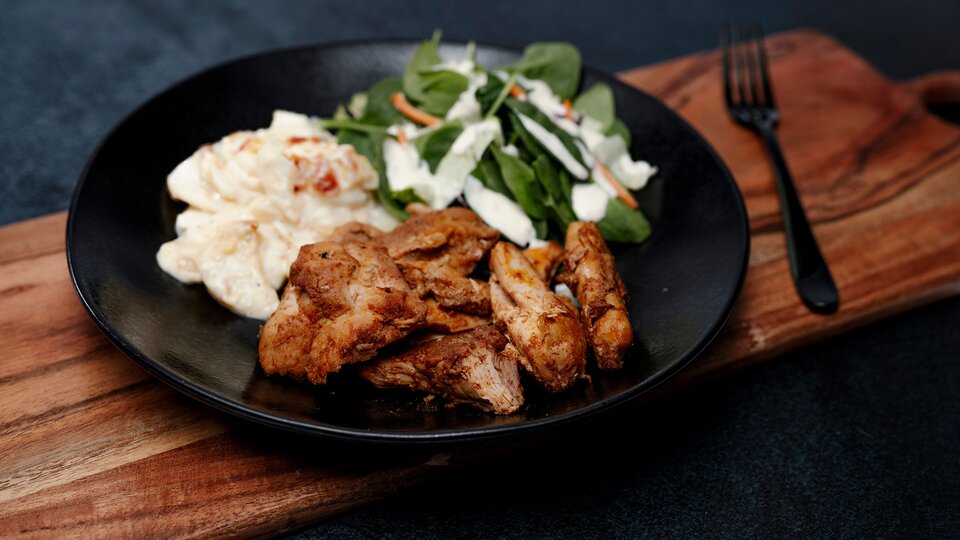 Our boneless thighs are a hidden secret. The thighs are covered in our Texas rub and the fat is rendered off in the cooking process. The moisture is locked in making the thighs super juicy.
Ingredients
1 serving Texas Rub Chicken Thigh
1 serving Texas rub marinade
½ cup, diced red potatoes, quartered
2 tbsp milk (2% fat)
½ tsp ginger, minced
1 pinch parsley, dried
½ cup spinach
½ cup shredded romaine lettuce
½ cup grated carrots
1 tablespoon ranch dressing, reduced-fat
Directions
Prepare potatoes and boil until soft and cut into slices.
Add sour cream, milk, garlic, and parsley to potatoes. Stir.
Chop up spinach and romaine lettuce and add grated carrots and fat-free ranch dressing.
Remove plastic from Texas Rub Chicken Thigh package.
In a skillet, add one serving of protein and a portion of the Texas rub marinade and heat for 2 minutes, stirring every 30 seconds.
Plate up and serve!