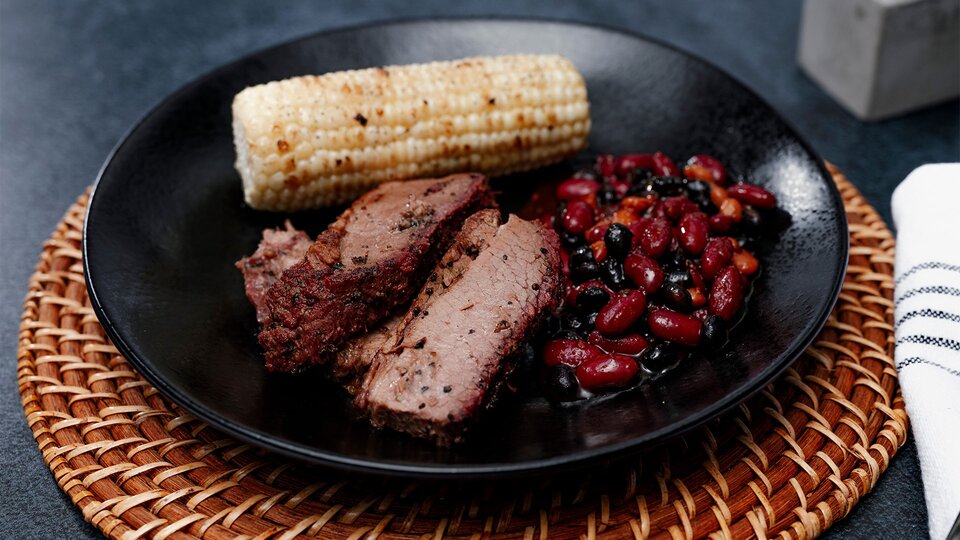 Our Texas brisket is hand-trimmed and coated in our popular Texas rub. On a rotisserie smoker, it is slow-smoked over white oak until done, meaning it has reached an optimal temperature and has appropriate "touch." After it has absorbed those flavors, we trim the excess fat and slice it in its rendering.
Ingredients
1 serving smoked Brisket
1 serving brisket Marinade
¾ cup pinto beans
1 tbsp low-sugar ketchup
2 tbsp BBQ Sauce
2 tbsp chopped onion, chopped
1 ear, yields corn on the cob, cooked
Directions
Mix beans, ketchup, BBQ sauce, and onions in a small pan.
Heat until bubbling, remove from heat.
Boil corn on the cob in hot water for 5 minutes, remove from heat.
Remove plastic from Smoked Texas Brisket package.
In a skillet, add one serving of protein and a portion of the brisket marinade and heat for 2 minutes, stirring every 30 seconds.
Plate up and serve!