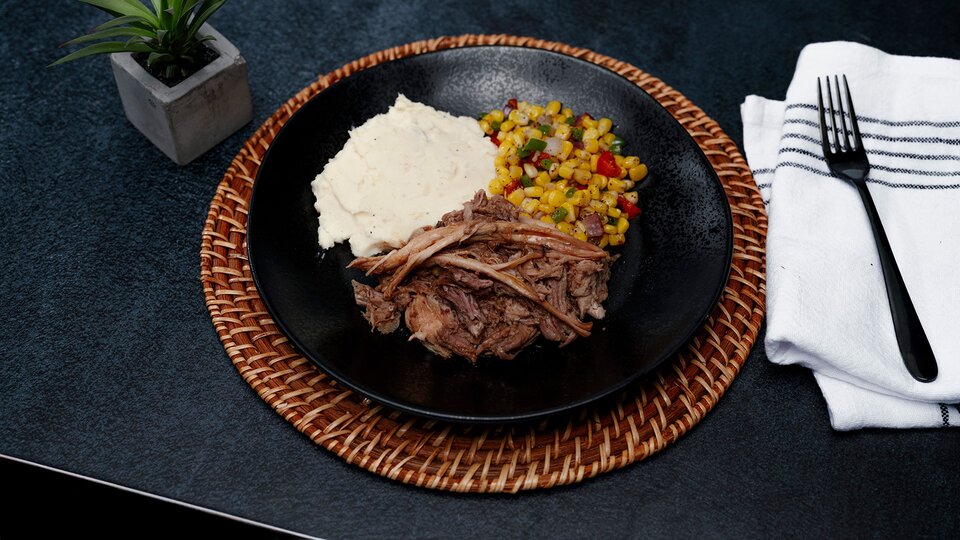 Our bone-in pork shoulder is slow-cooked for optimal flavor and texture until it is so juicy and tender, it falls apart.
Ingredients
1 serving slow Cooked Pulled Pork
1 serving pork Marinade
½ cup, diced red potatoes, quartered
2 tbsp milk (2% fat)
½ tsp garlic, minced
1 pinch parsley, dried
¼ cup kernels corn kernels
¼ cup, sliced red bell pepper, halved
¼ cup, sliced green bell pepper, sliced
⅛ cup, chopped onion, chopped
Directions
Prepare potatoes and boil until soft and mash.
Add sour cream, milk, garlic, and parsley to potatoes. Stir.
Dice peppers and onions.
Drain corn and mix with peppers and onions.
Remove plastic from Slow Cooked Pulled Pork package.
In a skillet, add one serving of protein and a portion of the pork marinade and heat for 2 minutes, stirring every 30 seconds.
Plate up and serve!