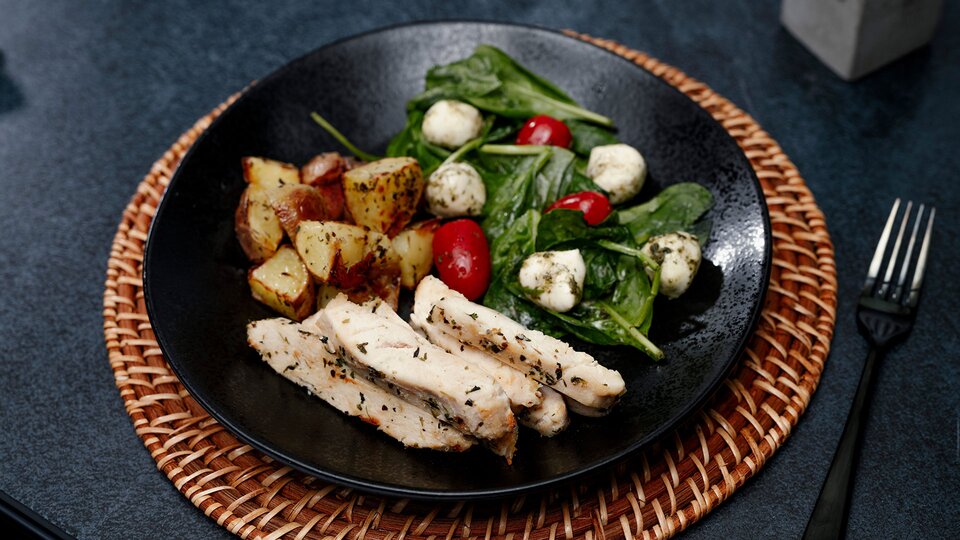 Our herb roasted chicken breast is a mouthwatering cut with a herb crust exterior. A unique combination of herbs coat the outside of each breast, which is then roasted at a high temperature to achieve this satisfying flavor.
Ingredients
1 serving herb Roasted Chicken
1 serving herb Marinade
0.2 lb potatoes
¼ tsp, leaves oregano
1½ tsp extra virgin olive oil
¼ cup mozzarella cheese
½ cup spinach
⅛ cup grape tomatoes
⅓ oz basil pesto sauce
Directions
Cut potatoes into chunks, toss with olive oil and oregano.
Bake in oven for 15 minutes at 325°F.
Take mozzarella and toss with pesto sauce.
Place mozzarella and grape tomatoes on top of spinach bed.
Remove plastic from Herb Roasted Chicken package.
In a skillet, add one serving of protein and a portion of the herb marinade and heat for 2 minutes, stirring every 30 seconds.
Plate up and serve!