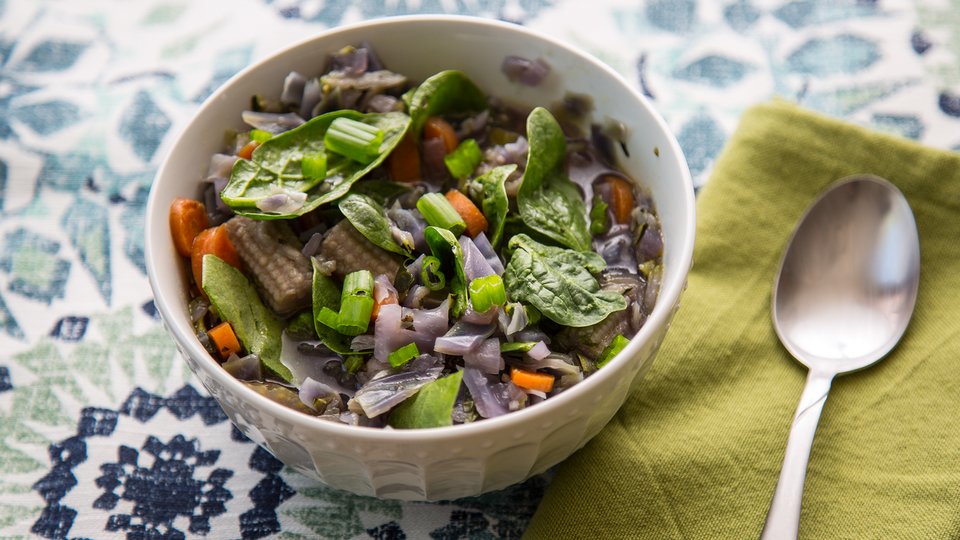 Not only is this recipe high in volume, but it warms your core to satisfy annoying cravings. This soup can be prepared with or without chicken. You can even start without and add poultry later if you feel its pull.
Ingredients
1 tbsp olive oil
2 clove garlic, chopped
1 cup onion, finely chopped
1 whole stalk celery
2 cup, chopped purple cabbage
2 medium carrots
1 whole zucchini, finely shredded
1 cup baby corn
1 tbsp flat-leaf parsley
1 tsp, leaves basil, dried
6 cup low-sodium vegetable broth
2 cup spinach
2 whole green onion, chopped
Directions
Begin by heating olive oil in a large saucepan over medium heat. Next, add garlic, onions, celery and carrots and sauté for seven minutes or until tender. Toss in zucchini, cabbage and corn cobs and sauté for another 2-3 minutes.
Add spices and broth. Bring to a boil, cover and let simmer for 10 minutes. Want some extra protein, add a few chicken breast.
Top with green onions and spinach and cook for two more minutes.