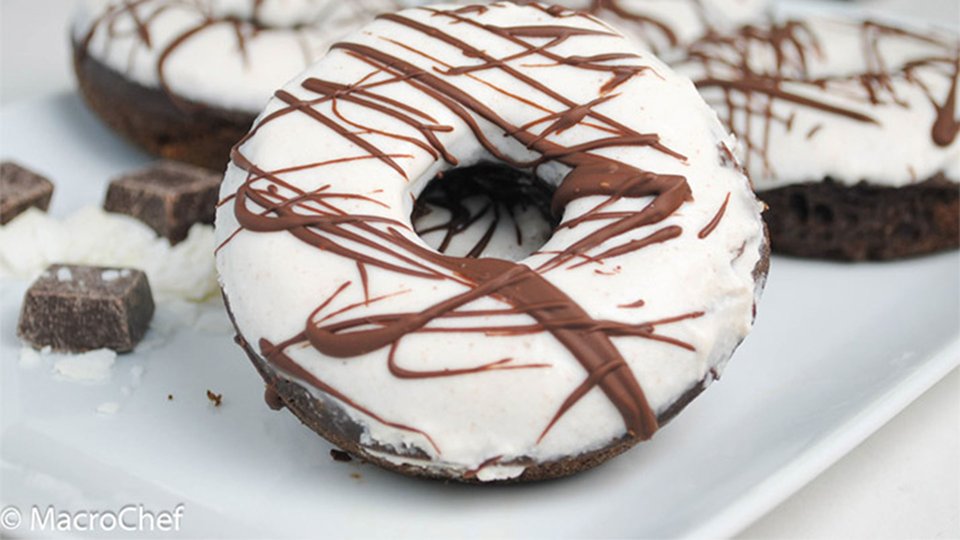 Doughnuts! Doughnuts seem to be all the rage these days, but what if I told you that you could make your own, or that they could be loaded with protein and be on par with regular doughnuts when it comes to taste? Yeah, I'm assuming I have your attention. These take a little longer to prep, but the extra time spent in the kitchen is well worth the wait.
Doughnuts Ingredients
½ cup whole-wheat flour
1 scoop musclePharm Combat Powder (Chocolate)
2 tbsp cocoa powder, unsweetened
3 tbsp powdered Stevia
¾ tsp baking powder
1 whole egg
¼ cup unsweetened almond milk
¼ cup nonfat plain Greek yogurt
2¼ cup pumpkin, canned
4 tsp coconut extract
Toppings Ingredients
2 tbsp sweet Spreads Vanilla Cupcake Coconutter
2 tbsp nonfat plain Greek yogurt
3 tbsp unsweetened almond milk
2 tbsp powdered Stevia
2 tbsp dark chocolate chips
Directions
Preheat oven to 350 degrees F. Mix flour, protein powder, cocoa powder, Stevia, and baking powder in a large bowl.
Mix egg, almond milk, Greek yogurt, pumpkin, and coconut extract in a separate bowl. 3. Add wet ingredients to dry and gently stir together until well combined.
Spray a doughnut pan with cooking spray. Spoon batter into 6 spots in a doughnut pan. Bake for about 12 minutes or until a knife comes out clean.
Once cooled, take out of oven and let cool completely.
While doughnuts are cooling, add coconut butter to a microwave-safe bowl. Heat for 15-20 seconds.
Add Greek yogurt, almond milk, and Stevia. Mix until smooth. Once doughnuts have cooled, dip each doughnut into glaze.
Heat dark chocolate chips in a microwave-safe bowl for about 1 minute and 30 seconds to melt. Drizzle chocolate over top of glazed doughnuts and enjoy!