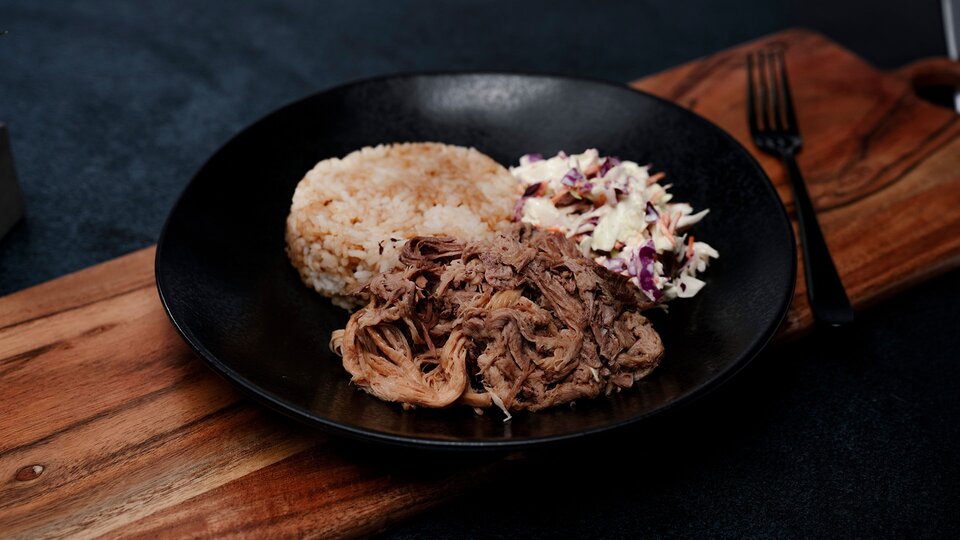 Our slow-cooked pork shoulder encompasses the flavor of the islands. Using our amazing pressure cooking skillet, the pork is steamed to deliciousness until it just falls apart.
Ingredients
1 serving kalua pork
1 serving kalua marinade
½ cup brown rice
1 tbsp light soy sauce
1 oz colesaw dressing
½ cup, shredded red cabbage
½ cup, shredded green cabbage
⅛ cup grated carrots
Directions
Prepare rice to your specifications and add soy sauce.
Make coleslaw dressing (pre-made or combine mayonnaise, mustard, apple cider vinegar, sugar, and celery seed).
Combine shredded red and green cabbage and grated carrots.
Remove plastic from raw Braised Pork Kālua package.
In a skillet, add one serving of protein, add a portion of the Kālua marinade, and heat for 2 minutes, stirring every 30 seconds.
Plate up and serve!