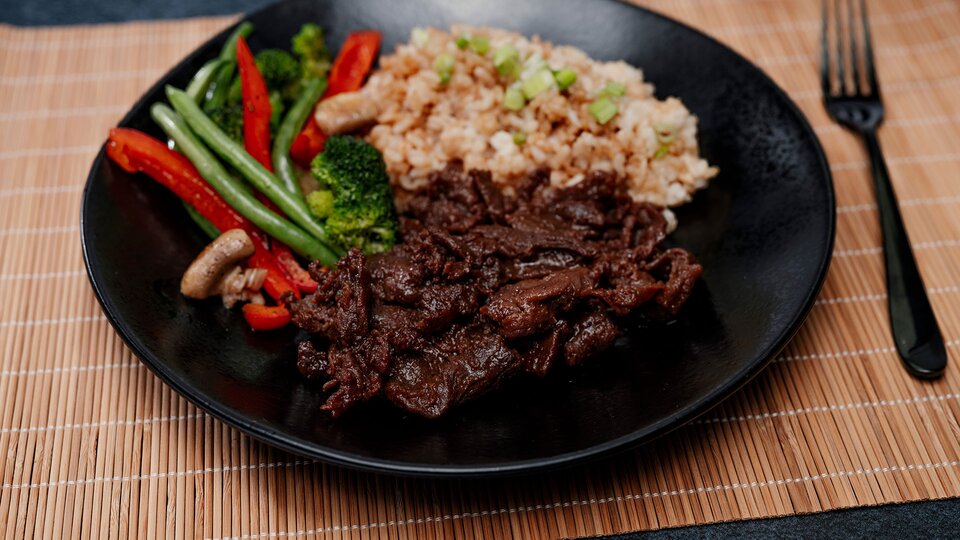 Our highest-quality Hawaiian teriyaki beef is doused in a special house teriyaki sauce and sliced into scrumptious bite-sized pieces. The beef is then seared on a hot flat griddle to lock in the flavors and create a caramelized coating.
Ingredients
1 serving Hawaiian teriyaki beef
½ cup brown rice
2 tbsp light soy sauce
1 tbsp scallions, sliced
¼ cup green beans
¼ cup broccoli
¼ cup, chopped red bell pepper, sliced
¼ cup mushrooms, sliced
Directions
Prepare rice to your specifications.
Chop broccoli, red pepper, and green onions.
Add soy sauce and green onions to rice.
Cook broccoli to your specifications.
Remove plastic from thawed Hawaiian Teriyaki Beef package.
In a skillet, add one serving of protein, a portion of the teriyaki marinade, and heat for 2 minutes, stirring every 30 seconds.
Plate up and serve!