Vital Proteins
Bone Broth Collagen
USDA Organic Bone Broth Powder To Support Healthy Joints & Bones*
Whole30 Approved, Msg Free, Low In Sodium, Dissolves Quickly And Tasteless
Product Overview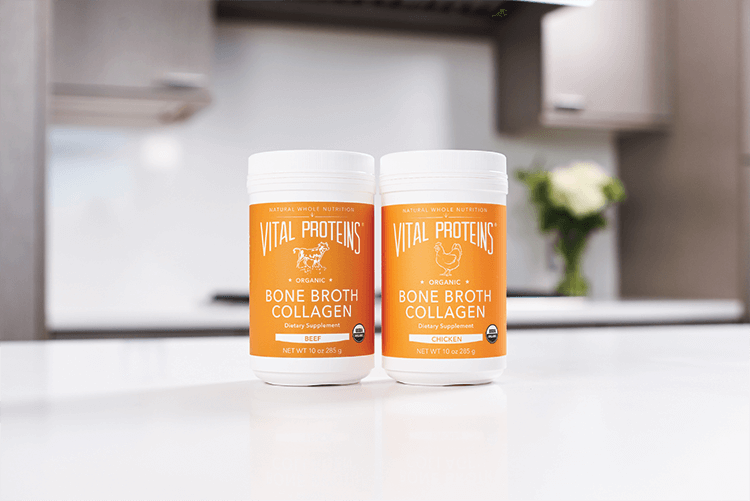 what is bone broth collagen?
Vital Proteins' Bone Broth Collagen is the first USDA organic bone broth powder and is Whole30® Approved, MSG free, and low in sodium. Our Bone Broth Collagen is a delicious way to incorporate the nutrient into your diet.

USDA Organic

Paleo Friendly

Healthy Joints & Bones
key features & attributes
Supports joint and ligament health*
Promotes healthy immune and digestive systems*
Clean, tasteless, and dissolves and absorbs quickly
Ratings & Reviews
What's in Vital Proteins Bone Broth Collagen
10 Oz.

Beef

Serving Size 1 Scoop (10 g)

Servings Per Container

28

Amount Per Serving

% Daily Value

Calories

40

Protein

9 g

Sodium

70 mg

3%

Collagen

9 g

**

Chrondroitin Sulfate

390 mg

**

Hyaluronic Acid

50 mg

**

** Daily Value not established.

INGREDIENTS:

Organic Beef Bone Broth Powder

This product is manufactured in a facility that processes milk, fish, and tree nuts.
Directions For Bone Broth Collagen: Directions: Combine 1 scoop with 8 fl oz of hot liquid, mix thoroughly.
Warnings:
If you are pregnant, nursing or have a medical condition, consult your physician before use.
Storage Information: Store in a cool, dry place.
Do not use if safety seal is broken or missing.
* These statements have not been evaluated by the Food and Drug Administration. This product is not intended to diagnose, treat, cure, or prevent any disease.
---