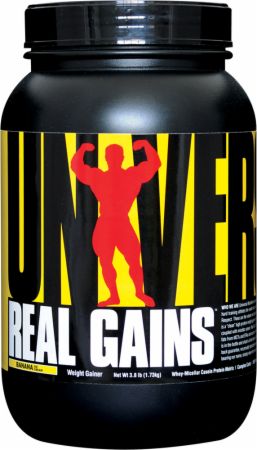 Universal Nutrition
Real Gains
Clean High Protein Weight Gainer!*
Powerful Mass-Cultivating Formula!*
Product Overview
Mass In A Glass
High Protein Clean Weight Gainer
52g grams of protein per serving
600 calories per glass
Contains whey, micellar casein, complex carbs, healthy fats and fiber
Low in sugar
Mixes easily with a spoon or in a shaker
Real Gains is an extremely powerful mass-cultivating support formula that was created with you, a hardcore active and athletic individual, in mind.* Real Gains has more of what you want and less of what you don't: more calories, more protein, more good fats, more taste, more fiber and far less sugar. You want to gain, muscle mass that is, and the right way to do that is with large amounts of protein, which you will find in every scoop of Real Gains, and by cutting fat intake. Rest assured we use only the finest whey protein and micellar casein available on the market. We don't skimp on things that are important and neither should you. Our Real Gains Protein Complex has a top-notch amino acid profile and instantly mixes into a liquid with no blender required.
Large amounts of complex carbs have also been included in every serving since they are an essential part of building and fueling muscle expansion. These carbs are a large source of energy that will support your intensely hardcore weight training routines.* We have also provided you with inulin, a special dietary fiber that will aid in digesting all of the protein, carbs, and fat you need to get big and stay big.* MCT and flaxseed oils are included to aid in hormone production, cell membrane protection and growth, as well as overall daily nutritional needs.* Real Gains is meant to be used together with a well balanced diet and hardcore training routine.
Ratings & Reviews
3.8 Lbs.
11 Servings | $2.27 Per Serving
6.85 Lbs.
21 Servings | $1.90 Per Serving
10.6 Lbs.
31 Servings | $1.77 Per Serving
What's in Universal Nutrition Real Gains
3.8 Lbs.

Banana Ice Cream

Serving Size 3.5 Scoops (155 g)

Servings Per Container

11

Amount Per Serving

Calories

600

Calories From Fat

45

% Daily Value *

Total Fat

5 g

8%

Saturated Fat

3.6 g

18%

Trans Fat

0 g

Cholesterol

100 mg

33%

Sodium

225 mg

9%

Potassium

400 mg

11%

Total Carbohydrate

87 g

28%

Dietary Fiber

2 g

8%

Sugars

9 g

**

Protein

52 g

104%

Vitamin A

<2%

Vitamin C

2%

Calcium

33%

Iron

15%

Riboflavin

34%

Phosphorus

27%

Iodine

30%

Magnesium

13%

Manganese

5%

Chloride

3%

Typical Amino Acid Profile (Per 100g Of Protein)

L-Alanine

4.77 g

L-Arginine

2.32 g

L-Aspartic Acid

10.44 g

L-Cystine

2.45 g

L-Glutamic Acid

11.98 g

L-Glutamine

4.64 g

L-Glycine

1.8 g

L-Histidine

1.93 g

L-Isoleucine

6.06 g

L-Leucine

10.69 g

L-Lysine

8.89 g

L-Methionine

2.06 g

L-Phenylalanine

3.35 g

L-Proline

5.41 g

L-Serine

4.64 g

L-Threonine

6.31 g

L-Tryptophan†

1.67 g

L-Tyrosine

2.96 g

L-Valine

5.67 g

† Naturally Occuring

* Percent Daily Values are based on a 2,000 calorie diet. Your daily values may be higher or lower depending on your calorie needs

Other Ingredients:

Maltodextrin

, Real Gains™ Protein Complex™ [Ultra Filtrated Whey Concentrate (Milk)

, Micellar Casein

, Whey Protein Isolate]

, Natural & Artificial Flavor

, (FD&C Yellow #5

, &6)

, MCT

, Inulin

, Calcium Caseinate

, Lecithin (Soy)

, Flaxseed Powder

, Sodium Chloride

, Sucralose

, Acesulfame Potassium.

Made in a GMP facility on equipment that processes milk, soy, egg, peanuts, tree nuts, fish, shellfish, and wheat.
Directions For Real Gains: Use one serving between meals and at bedtime. May also be used to replace 1 meal per day. Mix 3.5 scoops with 12 to 16 oz of liquid. This formula is highly concentrated, and due to its potency you may want to consider using 1/2 serving two or three times per day.
Warnings: This product is not for use by any individual under the age of 18. Please consult with a physician before using this product. Do not take this product if you have or are at risk for any medical condition or disease including but not limited to diabetes, asthma, depression, recurrent headaches, glaucoma, difficulty urinating, prostate enlargement, seizure disorder, high blood pressure, high cholesterol, arthritis, heart disease, stroke, are pregnant, or are suffering from any inflammatory diseases. Be sure to talk to your physician before using this product if you are using any prescription drug, over-the-counter medication, or supplements. Not for use by children, patients, pregnant or nursing women. Immediately discontinue use and consult your physician if dizziness, sleeplessness, tremors, nervousness, agitation, headache, heart palpitations, or any side effects occur. Discontinue use two weeks prior to surgery. The use of this product may be banned by some athletic associations. Athletes should consult with their sanctioning authority before use. Exercise good judgment and keep this out of reach of children. Store this product in a cool, dry place, away from heat, moisture and sunlight. Do not exceed recommended dose.
* These statements have not been evaluated by the Food and Drug Administration. This product is not intended to diagnose, treat, cure, or prevent any disease.
---