Trimr
Water + Shaker Bottle
Reusable Water Bottle With The Functionality of a Shaker Bottle
Combines the Best Features of a Water Bottle and a Shaker Bottle Into One Beautifully Designed Vessel
Price:
$17.34
( / Serving)
In Stock
Product Overview
DUO CLASSIC
MINT
DUO CLASSIC
BLACK
DUO CLASSIC
PLUM
TRIMR DUO CLASSIC FEATURES
The patented Trimr Duo Cap™ is the only shaker bottle that gives its user two different consumption options: Sip or Chug. The straw is ideal for sipping smoothies on the go in your car or protein shakes during crossfit, while the chug option might be used to quickly down nutritional supplements after hard workouts during bodybuilding or Bikram Yoga.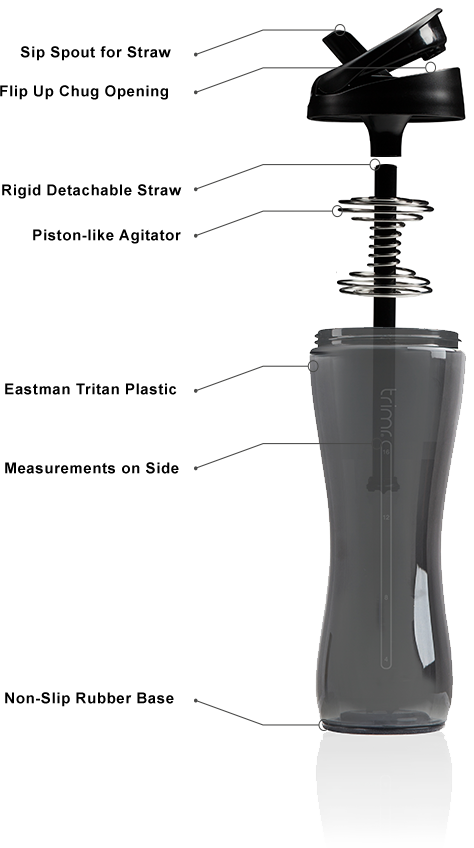 Ratings & Reviews
By clicking the button above, you agree to entering the Bodybuilding.com Reviews section. Products in the Store are not intended to diagnose, treat, cure, or prevent any disease.


Leaks when shaking, leaks when drinking, leaks in my gym bag. After reading other reviews of how happy people are I'm left feeling disappointed.

I purchased this water bottle/shaker as just a gym bottle. It looks great but functions terribly. It has leaked in my bag several times, in my car, its utterly useless and considering the price your better off with 3 shaker bottles. I contacted the company to which I received no response as well, steer clear.
It is just perfect in everything, i gave it 8 just because i didn't like the idea of sucking the shake like a baby :)


I love this bottle! I only use it as a water bottle and I like that the shaker comes out easily. I had some problems with leaking at first but realized I hadn't closed it all the way, now no leaking. I love the wide opening so I can put ice from my ice machine in without ice going everywhere. The shape of the bottle makes it easy to hold and it fits in all of my holders. I used to only use Contigo bottles but I have been converted. I have the mint one and it is a really cute color.

I used this one first and then switched to their larger one. I loved the feel of this one in my hands. And I felt like I was using both the chug and sip option equally....it just depends on what situation I am in (office, gym, or home, etc). I feel like these guys really get how to design their products well. The mixer is really effective too for proteins. My wife loves their other colors too. I just can't say enough about how much I have enjoyed this product...It doesn't hurt that everybody asks about it while at the gym!

Probably my favorite bottle ever. I love that I can sip it while working out or chug from it afterward.
Love the design and functionality. I was skeptical at first, but proved me wrong. Seals well and top doesnt crack like a Blender Bottle. Also, much more stylish and acceptable in the workplace. Has a nice touch of class to it.