Currently Unavailable
Supreme Sports Enhancements
Androgenix
, 120 Capsules
Elevates Natural Testosterone Production*
Support Lean Muscle Mass And Performance*
Product Overview
Backed By Science
Androgenix
Maximum Strength Testosterone Support*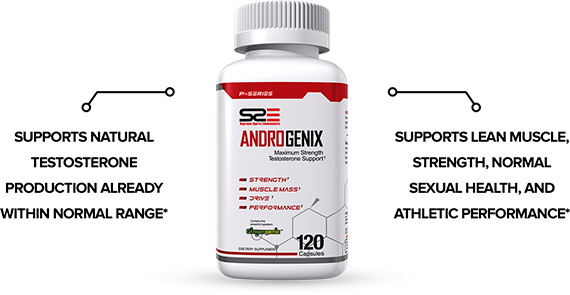 Androgenix supports natural testosterone production already within normal ranges, lean muscle mass, strength, normal sexual health, and athletic performance.* Unlike some natural testosterone boosters, Androgenix contains only the highest quality ingredients that have been scientifically tested to support testosterone and body composition.*
The Androgenic Power of Gingergenic
Testosterone is the male hormone and is responsible for the development of male characteristics, including strength and muscle mass. Testosterone is known as "The King of Hormones". For this reason, athletes and bodybuilders are always seeking ways to support Testosterone healthy levels.*
Androgenix contains the clinically tested ingredient Gingergenic™, which has been suggested to support natural levels of testosterone already within normal range.* Gingergenic™ is the only super-concentrated Ginger extract that contains high levels of the biologically active Gingerol compounds, 6-gingerol, 8-gingerol, 10-gingerol and 6-shogao! Gingergenic™ truly represents a new age of herbal testosterone support for men and even women!*
Gingergenic™ has been clinically tested and suggested to support endogenous testosterone levels already within normal ranges.* Gingergenic™ is perfect for natural testosterone-boosting formulas and other bodybuilding and fitness related products that are designed to support body composition and enhance athletic performance.*
Eurycoma Longifolia: The King of Herbal Muscle
When it comes to muscle-building herbs, Eurycoma Longifolia is the undisputed KING! Quite simply, there is no other herb with as much scientific support for supporting natural testosterone levels already within normal range and increasing muscle.* This remarkable herb has been tested in numerous studies to support testosterone, and even more importantly, support lean muscle mass and strength!*
Although this herb has been available and widely used for quite some time, only recently have higher quality extracts become available, as new data emerges detailing the bioactive constituents of the root. Supreme Sports Enhancements has identified the primary actives in the Eurycoma Longifolia root (not in the leaves!), and we have included this powerful extract in the Androgenix formula. We are extremely proud to use the only Eurycoma extract in the world that delivers these powerful compounds in their optimal quantities and ratios, producing the maximum testosterone-boosting effect.* Don't be fooled by misleading water extracts such as "200:1" or "100:1", as these extracts do not contain the proper ratios of Eurycomanones and other bioactives that are responsible for the androgenic support.*
Ratings & Reviews
What's in Supreme Sports Enhancements Androgenix
120 Capsules

Serving Size: 2 Capsules

Servings Per Container: 60

Amount Per Serving

% DV *

Gingergenic™

500

mg

*

Zingiber Officinale Extract, (Standardized to contain 2% 6-gingerol, 8-gingerol, 10-gingerol and 6-shogao)

AndroJax™

300

mg

*

Eurycoma Longifolia Root Extract, (Containing 8% Eurycomanone and 6% 13-alpha (21) epoxy-eurycomanone)

* Daily Value (DV) not established.

Other Ingredients:

Gelatin

, Maltodextrin

, Silica

, Magnesium Stearate

, Titanium Dioxide

, FD&C Red #40

, FD&C Blue #1.
Directions For Androgenix: As a dietary supplement, take 2 capsules in the morning and 2 capsules in the evening, preferably with a meal.
Warnings: You should not take this product if you have any prior medical condition, including diabetes. Consult your doctor before using this product.
* These statements have not been evaluated by the Food and Drug Administration. This product is not intended to diagnose, treat, cure, or prevent any disease.
---