S.A.N.
Estrodex
, 90 Capsules
Powerful Anti-Estrogen Capsule to Support Healthy Testosterone Levels Already in Normal Range*
Helps Support a Healthy Estrogen Balance*
Product Overview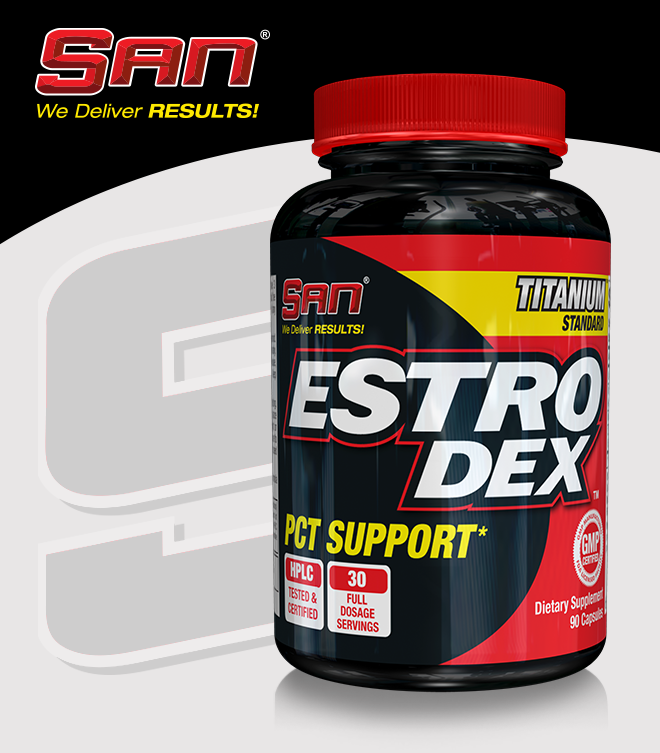 ESTRODEX

Advanced estrogen modulating Complex
Supports normal levels of testosterone*
Promotes athletically activated anabolism*
Supports a healthy estrogen balance*
Elite athletes tend to have something in common besides just being deeply driven to succeed. They also have a healthy hormone profile which allows them to excel and to recover better than average athletes.*
ESTRODEX offers the best of both worlds with regards to hormonal support. It supports testosterone levels and aids in balancing estrogen levels at already normal levels.*

ESTRODEX allows athletes to maximize the powers of free testosterone while supporting a healthy estrogen balance.*

Product Recap:
Supports healthy levels of testosterone already in normal range*
Helps support a healthy estrogen balance*
Promotes Athletically Activated Anabolism*
Ratings & Reviews
What's in S.A.N. Estrodex
90 Capsules

Supplement Facts

Serving Size

3

Capsules

Servings Per Container

30

Amount Per Serving

% Daily Value

Calcium D-Glucarate (Root)

300

mg

†

Urtica Dioica (Aqueous Ext., Aerial Parts)

120

mg

†

Indole-3-Carbinol

100

mg

†

3,5,4' TriHydroxy-Transstibene (Root)(20% Resveratrol, 10% Emodin)

50

mg

†

† Daily Value not established
Other Ingredients

Microcrystalline Cellulose

, Gelatin

, FD&C Colors

, Titanium Dioxide

No Yeast, Corn, Wheat, Sugar, Salt, Soy, Dairy, Citrus, Fish, Or Preservatives Added.
Directions For Estrodex:
As a dietary supplement take 3 capsules twice daily with meals.
Warnings: Do not exceed 9 Capsules in any 24 hour period. Do not use this product if you are pregnant or nursing a baby. Consult a health care professional if you have heart disease, kidney disease, or diabetes before using this product. Keep out of reach of children.
* These statements have not been evaluated by the Food and Drug Administration. This product is not intended to diagnose, treat, cure, or prevent any disease.
---