REDCON1
Waterboard Diuretic
, 30 Tablets
Diuretic tablets to reduce water retention*
Herbal extracts, grains of paradise, Lean GBB® & more
Product Overview

Waterboard
Natural Diuretic
Have you been pushing yourself hard in the gym, but still have an extra layer of softness covering up your muscles? It might not be body fat after all, you might have a stubborn layer of water that's been hiding away everything you want to show off. Well not anymore! Waterboard® is an all-natural water loss formula that will eliminate the top layer of subcutaneous water retention that has been blurring away your coveted definition. Get the cuts, striations, and muscle tone that will finally give you the results you are happy with when the clothes come off. Waterboard® is ideal for bodybuilding competitions, photoshoots, weddings, or any big event where looking and feeling your best is an absolute top priority.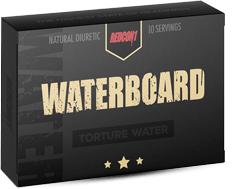 Key Benefits

Muscle Definition*

Water Loss*

Sweat Production*
Ratings & Reviews
What's in REDCON1 Waterboard Diuretic
10 Servings Per Container

Serving Size: 3 Tablets

Amount per serving

% Daily Value*

Horsetail Extract

500 mg

Dandelion Root 4:1

500 mg

Uva-Ursi

400 mg

Goldenrod

450 mg

Juniper Berry Extract

100 mg

Green Tea Extract 50% EGCG

100 mg

Grains of Paradise (Paradoxine)

25 mg

Gamma butyrobetaine Ethyl Ester Hcl (Lean GBB )

25 mg

* The % Daily Value (DV) tells you how much a nutrient in a serving of food contributes to a daily diet. 2,000 calories a day is used for general nutrition advice.

Other Ingredients:

Microcrystalline Cellulose

, Starch

, Dextrose

, Magnesium Stearate

, Stearic acid

, silica

, FD&C Red #40.
Directions For Waterboard Diuretic: FOR BEST RESULTS, TAKE (1) TABLET, 3X PER DAY. CONSUME AT LEAST 120 OUNCES OF WATER PER DAY. DO NOT TAKE FOR MORE THAN 3 CONSECUTIVE DAYS. DO NOT EXCEED MORE THAN (3) TABLETS PER DAY.
Warnings: KEEP OUT OF THE REACH OF CHILDREN. This product is intended to be consumed by healthy adults 18 years of age or older.Before using this product, seek advice from your pharmacist or physician. Avoid using this product if you have if you have any pre-existing medical condition including but not limited to: high or low blood pressure, cardiac arrhythmia, stroke, heart, liver or kidney disease, seizure disorder, thyroid disease, psychiatric disease, diabetes, difficulty urinating due to prostate enlargement or if you are taking MAO Inhibitor or any other medication or supplements. Do not use if you are pregnant or nursing, prone to dehydration or exposed to excessive heat. Discontinue use and consult your healthcare professional.
* These statements have not been evaluated by the Food and Drug Administration. This product is not intended to diagnose, treat, cure, or prevent any disease.
---