REDCON1
Total War RTD
Contains 300mg Caffeine, 6g L-Citrulline, and 3.2g Beta Alanine to support intense exercise*
Unstoppable power, extreme energy, laser-like focus*
Product Overview

Total War RTD
The Top Pre-Workout Is Now Ready To Drink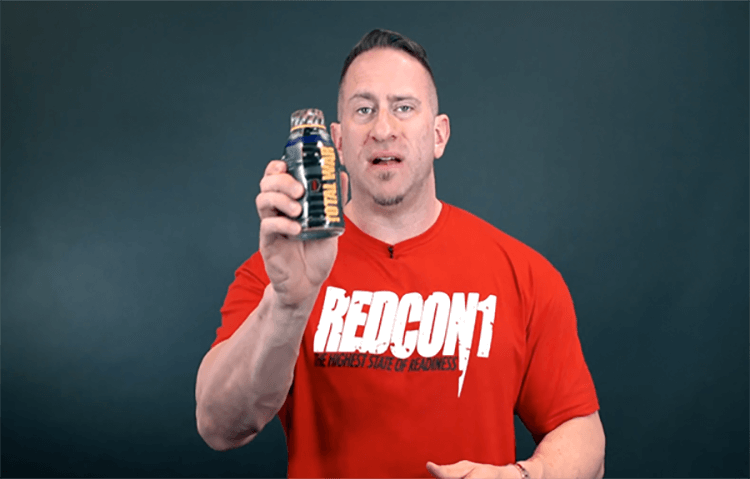 If you loved Total War before get ready to fall in love all over again! The NEW RTD(Ready To Drink) is the on-the-go version of Total War. We truly believe this is the only fully dosed RTD pre workout on the market! Total War RTD will deliver all of the same energy, focus, pump and performance benefits as the original powder, but comes in a more convenient and great tasting clear liquid.* Now in terms of ingredients, we have packed every feature and dose from the regular Total War powder into the Total War RTD, except for two ingredients. The two missing from the list are Naringin and BioPerine but everything else still in the mix.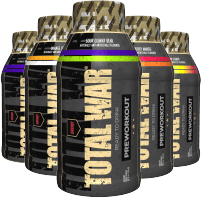 Key Benefits

Unstoppable Power

Extreme Energy*

Laser-Like Focus*
Ratings & Reviews
What's in REDCON1 Total War RTD
Serving Size 1 Bottle 12 fl. oz.

Servings Per Container

12

Amount Per Serving

% DV

Citrulline Malate 2:1

6,000 mg

**

Beta-Alanine

3,200 mg

**

Agmatine Sulfate

1,000 mg

**

Taurine

1,000 mg

**

Caffeine Anhydrous

300 mg

**

Di-Caffeine Malate

100 mg

**

CocoPhenols (Theobroma Cocoa & Camelia Sinensis Extract)(Leaf)

25 mg

**

** Daily Value (DV) not established.

Other Ingredients:

Purified Water

, Citric Acid

, Natural and Artificial Flavors

, Sucralose

, Sodium Hexametaphosphate

, Sodium Benzoate

, Potassium Sorbate

, Acesulfame Potassium

, Calcium Disodium Versene.

Contains: No Fruit Juice.
Directions For Total War RTD: When it comes time to bring the noise for a workout, assess your tolerance by taking half a bottle prior to training. Once your tolerance is assessed drink one bottle 30 minutes prior to training. Do not exceed 1 bottle in a 24-hour period.
Warnings: KEEP OUT OF THE REACH OF CHILDREN. This product is intended to be consumed by healthy adults 18 years of age or older. Before using this product, seek advice from your pharmacist or physician. Avoid using this product if you have, or suspect you have any pre-existing medical condition including but not limited to: high or low blood pressure, cardiac arrhythmia, stroke, heart, liver or kidney disease, seizure disorder, thyroid disease, psychiatric disease, diabetes, difficulty urinating due to prostate enlargement or if you are taking MAO Inhibitor or any other medication or supplements. Do not use if you are pregnant or nursing, prone to dehydration or exposed to excessive heat. Discontinue use and consult your healthcare professional if you experience any adverse reactions. Discontinue use 2 weeks prior to surgery.
STORE AT 59-86 F (15-30 C). PROTECT FORM LIGHT AND MOISUTRE> PRODUCT DOES NOT COMPLETELY FILL CONTAINER. SETTLING OCCURS IN SHIPPING.
* These statements have not been evaluated by the Food and Drug Administration. This product is not intended to diagnose, treat, cure, or prevent any disease.
---