Product Overview

MRE LITE
WHOLE FOOD MEAL REPLACEMENT
Our whole food meal replacement, MRE is now available in lower calories. In the military, M.R.E. stands for Meals Ready to Eat, these meal packs are given to soldiers out in the field for fuel during intense combat situations. We built upon that concept and offer to you a delicious tasting whole food meal replacement packed full of nutrients that will replenish your system when you need it the most.*
MRE Lite will deliver the same great taste and excellent source of whole foods as our original MRE formula, but with fewer calories than the original MRE for the person keeping a close and watchful on his or her macronutrients. That means if you're dieting and on restricted calories, you too, can enjoy MRE.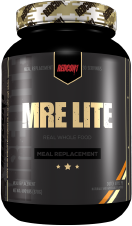 KEY BENEFITS
MEAL
REPLACEMENT
REAL WHOLE FOOD SOURCES
MRE LITE
Ratings & Reviews
What's in REDCON1 MRE Lite
1.9 Lbs.

Blueberry Cobbler

Serving Size: 1 Scoop (29g)

Servings Per Container: 30

Amount Per Serving

%D.V.

Calories

134

7%

Calories from Fat

18

3%

Total Fat

2 g

Saturated Fat

1 g

5%

Trans Fat

0 g

Cholesterol

0 mg

Sodium

85 mg

3%

Potassium

125 mg

3%

Total Carbohydrate

4 g

1%

Dietary Fiber

1 g

4%

Sugar

2 g

**

Protein

24 g

48%

Ingredients:

Beef Protein Isolate (bovine)

, Salmon Protein (fish)

, Chicken Protein

, Egg Albumin (egg)

, Brown Rice Protein

, Pea Protein

, Coconut Water (coconut)

, MCT Oil.

Other Ingredients:

Natural And Artificial Flavors

, Cellulose Gum

, Ground Cinnamon

, Salt

, Sucralose

, Acesulfame-K.

Contains: Milk, Eggs, Fish (Salmon), Tree Nuts (Coconut).

Allergen Warning: Manufactured on shared equipment which processes products containing milk, egg, soybeans, wheat, shellfish, fish, tree nuts flavor, and peanuts flavor.
Directions For MRE Lite:
For added dietary protein, a bridge between meals or a protein-rich snack, mix (1) scoop of MRE LITE with 4-6 ounces of your favorite beverage, shake well and consume. For additional protein support, take up to (3) servings per day.
Under 200 lbs - Use (1) scoop per serving
Over 200 lbs - Use (2) scoops per serving
Warnings: KEEP OUT OF THE REACH OF CHILDREN. This product is intended to be consumed by healthy adults 18 years of age or older. Before using this product, seek advice from your pharmacist or physician. Avoid using this product if you have any pre-existing medical condition including but not limited to: high or low blood pressure, cardiac arrhythmia, stroke, heart, liver, or kidney disease, seizure disorder, thyroid disease, psychiatric disease, diabetes, difficulty urinating due to prostate enlargement or if you are taking MAO Inhibitor or any other medication or supplements. Do not use if you are pregnant or nursing, prone to dehydration or exposed to excessive heat. Discontinue use and consult your healthcare professional. Settling may occur. Keep in a cool dry place.
* These statements have not been evaluated by the Food and Drug Administration. This product is not intended to diagnose, treat, cure, or prevent any disease.
---