REDCON1
Fade Out Sleep Formula
Sleep support powder to promote deeper rem sleep & muscle recovery*
5g melatonin & 3g GABA per serving, contains ZMA, herbal extracts, vitamins & minerals
Product Overview

Fade Out
Sleep Formula*
Deep and restful night sleeps are the key to growth and recovery both mentally and physically.* Whether you require 8-10 hours per night or can get by on 4 hours or less, your sleep needs to be quality and productive to make tomorrow the best possible. Fade Out® will optimize your sleep and make each minute and hour count.* Much like your training, it's about quality over quantity.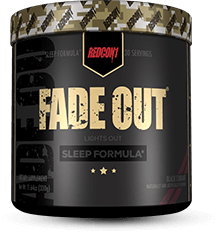 Key Benefits
Growth Hormone Support*

Depper REM Sleep*

Muscle Recovery*
Ratings & Reviews
What's in REDCON1 Fade Out Sleep Formula
Serving Size: 1 Scoop (11g)

Servings Per Container

30

Amount Per Serving

%DV

Vitamin C (as ascorbic acid)

100 mg

111%

Vitamin E

9 mg

60%

Vitamin B6

6 mg

353%

Magnesium (as magnesium aspartate)

425 mg

101%

Zinc (as zinc aspartate)

35 mg

318%

GABA (gamma aminobutyric acid)

3 g

**

Arginine (as L-arginine monohydrochloride)

1 g

**

Mucuna pruriens (seed) (Std. to provide 15% naturally occuring L-Dopa)

1 g

**

Phenylalanine (as L-phenylalanine monohydrate)

750 mg

**

Valerian (Valeriana officinalis) (root) 4:1 Extract

600 mg

**

Ornithine (as L-ornithine monohydrate)

600 mg

**

Theanine (as L-theanine monohydrate)

500 mg

**

Chamomile (flower) Extract (Std. to provide 1.2% apigenin)

350 mg

**

Hops (flower) 4:1 Extract

300 mg

**

Melatonin

5 mg

**

** Daily Value (DV) Not Established

Other ingredients:

Citric acid

, Natural and artificial flavors

, Sucralose

, Malic acid

, Maltodextrin

, Acesulfame-k

, Silica.
Warnings: This product is intended to be consumed by healthy adults 18 years of age or older. Do not use if you are pregnant, nursing, taking any prescription or over-the-counter medications or supplements, or if you have or suspect you may have a medical condition. Do not drive a motor vehicle or operate machinery when taking this product. As with any dietary supplement, consult a healthcare professional before using this product. Discontinue 2 weeks prior to surgery. Immediately discontinue use and consult a healthcare professional if you experience any adverse reactions. KEEP OUT OF REACH OF CHILDREN.
* These statements have not been evaluated by the Food and Drug Administration. This product is not intended to diagnose, treat, cure, or prevent any disease.
---