ProMera Sports
AMINO-TREN
, 6 Servings Mandarin
Concentrated Amino Acids!
Promotes Increased Uptake & Supports Improved Protein Synthesis!*
Product Overview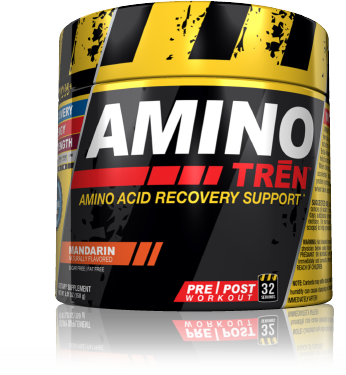 AMINO-TREN® is a recovery support formula consisting of amino acids including Free Form Amino Acids (FFAA) and Beta-Alanine. When taken as a pre-workout, AMINO-TREN™ may help boost training performance and improve nutrient delivery. When taken post-workout, AMINO-TREN may help accelerate muscle recovery while promoting muscle protein synthesis.*
Who USES
AMINO-TREN

?

AMINO-TREN is for men and women looking to optimize athletic performance and recovery.*
Product Highlights
Daily use of AMINO-TREN can help promote:*
Why

AMINO-TREN
AMINO-TREN uses a combination of Branch Chain Amino Acids (BCAA), Free Form Amino Acids, and Beta-Alanine to take advantage of the synergy between the various amino acids. When taken pre or post workout, AMINO-TREN increases muscle protein synthesis, lessens the impact of soreness, and delays the onset of mental and physical fatigue.*
AMINO ACID RECOVERY SUPPORT
GREAT TASTING FLAVORS
AMINO-TREN is available in delicious Blue Raspberry and Mandarin.
Ratings & Reviews
clearance
6 Servings
$1.19 Per Serving
What's in ProMera Sports AMINO-TREN
6 Servings

Mandarin

Serving Size 1 Scoop (4.9 g)

Servings Per Sample Pouch

6

Amount Per Serving

% DV

Vitamin B6 (As Pyridoxine)

2 mg

100%

Vitamin B12 (As Cyanocobalamin)

120 mcg

2,000%

Magnesium (As Magnesium Glycyl Glutamine Chelate)

12 mg

3%

Potassium (As Amino Acid Complex And Raw Coconut Water Concentrate)

26 mg

<1%

Sodium (As Sodium Citrate And Sodium Glycerophosphate)

26 mg

<1%

Proprietary Blend

3,060

mg

†

Taurine, Beta-Alanine (CarnoSyn®), L-Tyrosine, L-Leucine, L-Alanyl-L-Glutamine, L-Isoleucine, L-Valine, L-Glutamine, L-Arginine, L-Glycine, L-Phenylalanine, L-Histidine, L-Methionine, L-Lysine HCl, Caffeine (100mg), Black Pepper Fruit Extract, Yielding 95% Piperine (BioPerine®)

Percent Daily Values are based on a 2,000 calorie diet

† Daily Value not established

Ingredients:

Citric Acid

, Sucralose

, Natural Flavors

, Silicon Dioxide

, And Yellow #6
Directions For AMINO-TREN: Training Days: Approximately 10-15 minutes prior to training, mix one serving (one scoop) with 4-6 ounces of water and stir/shake. Establish tolerance to this product prior to increasing dose. Do not consume 4-6 hours prior to sleep. Do not consume more than four servings (four scoops) in a 24 hour period or two servings (two scoops) at one dose. Non-Training Days: Consume one serving (one scoop) on an empty stomach in between meals.
Warnings: Consult your physician prior to using this or any other dietary supplement or if you have or suspect having any known medical condition and/or if using and prescribed or OTC medication. Each serving contains 100 mg of caffeine. Limit the use of caffeine-containing medications, foods, or beverages while taking this product because too much caffeine may cause nervousness, irritability, sleeplessness, and occasionally, rapid heart beat. DO NOT USE IF PREGNANT OR NURSING. In the event of any adverse reaction discontinue use immediately and consult your physician. Store in a cool dry place away from sun light. KEEP OUT OF REACH OF CHILDREN.
* These statements have not been evaluated by the Food and Drug Administration. This product is not intended to diagnose, treat, cure, or prevent any disease.
---