Primeval Labs
Primabol
, 180 Capsules
Contains phosphatidic acid to support muscle protein synthesis*
Designed to support mTor activation in the body*
Product Overview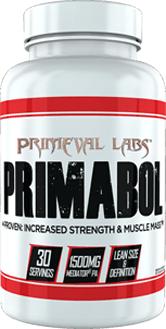 Primeval Labs Primabol
The quest for gains is endless.
Whether it be size, strength, power, or overall performance, the true athlete is never satisfied, constantly seeking to become bigger, stronger, and faster than before. Unfortunately, no matter how hard your train, how much you sleep, or how well you eat, each of us reach a point when the gains stop coming.
To help you break past those sticking points and shatter plateaus, Primeval Labs has created Primabol.
What Is Primabol?
Primabol is a 100% all-natural muscle builder. The compound in Primabol has been clinically shown to directly activate mTOR -- the signaling pathway that drives muscle protein synthesis in humans.*
So, what's in Primabol?
A compound called phosphatidic acid.
Research using resistance-trained athletes has noted that the ingredient in Primabol significantly improves lean mass gains, boosts strength, and even reduces body fat.*
How Primabol Works
Most of you probably know that mTOR is the pathway driving protein synthesis and muscle growth. mTOR stands for mechanistic target of rapamycin and consists of a kinase that interfaces with other proteins to form one of two main complexes -- mTORC1 and mTORC2. mTORC1 plays a critical role in cell regulation, nutrient transport, and cell growth (including muscle cells). mTORC1 can be activated by a number of things including hormones, amino acids, and even exercise.
How so?
When you exercise, muscle fibers are damaged when exposed to external loading. In response to this damage, an enzyme called phospholipase D senses this damage and produces phosphatidic acid.
Phosphatidic acid then binds to mTOR and activates mTORC1, stimulating muscle repair and growth.*
Upon discovering this, researchers were curious to see if increasing the amount of phosphatidic acid would favorably impact muscle growth and strength. And, as it turns out, it does! Recently, researchers documented that supplementing with phosphatidic acid enhances the anabolic (muscle building) effects of resistance-training program. Resistance-trained athletes consuming 750mg of phosphatidic acid daily for 8 weeks, in conjunction with a rigorous resistance training program yielded significant benefits in size and strength.*
Primeval Labs uses the exact same form of phosphatidic acid, at the exact same dose, used in the clinical trials -- Mediator® Phosphatidic Acid.
Primabol delivers the full 750mg of phosphatidic acid proven in scientific research to stimulate mTOR and enhance size, strength, and body composition.*

Ratings & Reviews
What's in Primeval Labs Primabol
Serving Size 6 Capsules

Servings Per Container

30

Amount Per Serving

% Daily Value **

Calcium (as Dicalcium Phosphate)

115 mg

12%

Mediator (containing 50% Phosphatidic Acid)

1,500 mg

†

** Percent Daily Values are based on a 2,000 calorie diet.

† Daily Value Not Established

Other Ingredients:

L-Leucine

, Gelatin Capsules

, Rice Powder

, Silicon Dioxide

, Magnesium Stearate
Directions For Primabol: As a dietary supplement take 6 capsules, once daily.
Warnings: Read entire label and obtain clearance from a licensed healthcare practitioner before use. This product is to be used by healthy adults only. Do not use if you have or could develop any medical condition or are taking any prescription drugs. Do not use if you are pregnant, nursing, or may become pregnant. Do not use more than the recommended dosage. Discontinue use and consult a physician if any adverse reactions occur. Kepp lid tightly closed and in a cool, dry place. As with all supplements, KEEP OUT OF REACH OF CHILDREN AND ANIMALS.
* These statements have not been evaluated by the Food and Drug Administration. This product is not intended to diagnose, treat, cure, or prevent any disease.
---