Currently Unavailable
Primeval Labs
Mega Pre
, 20 Servings Pineapple Mango
Contains 6g L-Citrulline + 300mg L-Norvaline to support nitric oxide production, blood flow & muscle pumps*
Stimulant-free pre-workout product
Product Overview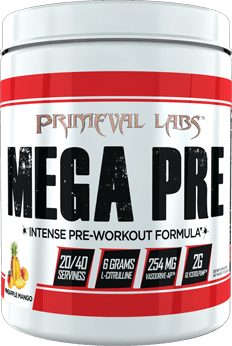 Primeval Labs Mega Pre
Since the inception of pre workouts, in order for a product to be considered great it had to contain caffeine. Well, Mega Pre serves as proof positive that a pre workout doesn't need stimulants to be great.
How can this be?
Mega Pre unites the best vasodilatory and cell-saturating ingredients, including L-Citrulline, VasoDrive-AP, and GlycerPump, into one fully dosed product that makes for a pre workout experience like no other.*
But that's not all.
Mega Pre also includes ingredients to boost natural energy production and performance including elevATP, betaine, and huperzine a.*
Mega Pre At-A-Glance
6g L-Citrulline + 300mg L-Norvaline for enhanced nitric oxide production, blood flow, and muscle pumps*
2g GlycerPump for added hydration and stamina*
Choline Bitartrate + Huperzine for elevated focus and concentration*
254mg VasoDrive-AP to support blood flow*
150mg elevATP for increased ATP production and better performance*
ZERO stimulants
Why No Stimulants?
Stimulants and stimulant blends are typically the cheapest portion of pre workout formulas. Instead of adding a crazy cocktail of stimulants and overcharging you a glorified caffeine powder, we've invested those saved dollars into bringing you premium quality ingredients all at their clinically backed doses.
What is the main difference between Mega Pre and Mega Pre Black?
Mega Pre contains NO stimulants, while Mega Pre Black contains a combined 375mg caffeine from caffeine anhydrous and Infinergy dicaffeine malate plus hordenine and n-methyltyramine.
Mega Pre Up-Close
L-Citrulline (6g)
Citrulline is a proven and powerful booster of nitric oxide, far better than L-Arginine, that enhances blood flow, nutrient delivery, waste metabolite clearance, and muscle pumps. Additional studies have noted that this ergogenic also enhances Vo2 kinetics, ATP production, and athletic performance.*
Betaine Anhydrous (3g)
A derivative of choline, betaine is a must-have ingredient shown to increase strength, power, and lean mass, in a manner similar to that of creatine. Furthermore, betaine has been found to actually support natural creatine production, via methylation of the amino acid homocysteine.* GlycerPump™ (2g)
A patented, highly-concentrated form of glycerol, containing 65% glycerol by weight. Previous forms of glycerol contained 25% glycerol at most and were notorious for clumping. GlycerPump sidesteps the clumping and delivers a form of glycerol that mixes easily, is shelf-stable, and hyper-hydrates your muscles for better stamina and epic "water-based" pumps.* Choline Bitartrate (1g)
L-Norvaline (300mg)
Norvaline bolsters the nitric oxide boosting effects of L-Citrulline by blunting arginase activity. Arginase is responsible for degrading arginine, the "fuel" for nitric oxide production. With arginase sidelined, nitric oxide production continues unimpeded resulting in bigger, denser, longer-lasting muscle pumps.*
VasoDrive-AP™ (254mg)
One of the most intriguing aspects of Mega Pre comes in the form of VasoDrive-AP, a patented, proprietary ingredient derived from casein that inhibits the actions of Angiotensin converting enzyme (ACE). In case you weren't aware, ACE is a devilish little enzyme that causes vasoconstriction. Mega Pre includes the full clinical dose (254mg) of VasoDrive-AP shown to promote blood flow, and protect muscle cells against free radical-related dysfunction.*
elevATP® (150mg)
Derived from a combination of ancient peat and apple extracts, elevATP® is a revolutionary performance-enhancing compound documented to significantly enhance ATP production in the body. Research studies note that elevATP® can significantly boost strength, power, and performance in resistance-trained men.*
Huperzine A 1% (100mcg)
A powerful nootropic that complements the actions of choline bitartrate by inhibiting acetylcholinesterase, the enzyme responsible for destroying acetylcholine. Stacking choline bitartrate and huperzine A makes for stronger, longer-lasting focus during and after your workout.*
Ratings & Reviews
What's in Primeval Labs Mega Pre
30 Servings

Pineapple Mango

Serving Size: 2 Scoops (14.8g)

Servings Per Container: 20

Amount Per 2 Scoops

% Daily Value *

L-Citrulline

6

g

†

Betaine Anhydrous

3

g

†

Glycerol Powder (standardized to 65% Glycerol)(GlycerPump™)

2

g

†

Choline Bitartrate

1

g

†

L-Norvaline

300

mg

†

VasoDrive-AP™

254

mg

†

(Isoleucyl-prolyl-proline (IPP) and, Valyl-prolyl-proline (VPP), from hydrolyzed milk casein)

Ancient Peat; Apple Extract (ElevATP®)

150 mg

†

Toothed Clubmoss (Huperzia serrata) (aerial parts) (standardized to 1% Huperizine A)

100 mcg

†

* Percent Daily Values based on a 2000 calorie diet.

† Daily Value Not Established

Other Ingredients:

Citric Acid

, Silicon Dioxide

, Natural Flavors

, Sucralose

, Yellow #5

, Yellow #6

Contains: Milk
Directions For Mega Pre: Take 2 rounded scoops of mega pre in 10-12oz of cold water 15-20 minutes prior to training. Assess tolerance by starting with 1 rounded scoop. Never exceed 2 rounded scoops.
Warnings: Read entire label and obtain clearance from a licensed healthcare practitioner before use. This product is to be used by healthy adults only. Do not use if you have or could develop any medical condition or are taking any prescription drugs. Do not use if you are pregnant, nursing, or may become pregnant. Do not use more than the recommended dosage. Discontinue use and consult a physician if any adverse reactions occur. Keep lid tightly closed and in a cool, dry place. As with all supplements, KEEP OUT OF REACH OF CHILDREN AND ANIMALS.
* These statements have not been evaluated by the Food and Drug Administration. This product is not intended to diagnose, treat, cure, or prevent any disease.
---