Primeval Labs
Mega Pre Red
Advanced pre workout formulated to throttle energy, motivation, and performance*
Enhances pumps, focus, and resistance to fatigue*
Product Overview
Mega Pre Red is a hard-hitting, premium-quality pre-workout supplement formulated to support greater energy, intensity, focus, and performance during training.* Containing a unique combination of research-backed ingredients, Mega Pre Red helps you push harder through your toughest training sessions.*
Product Benefits
Enhances athletic performance*
Improves strength and power output*
Support lean mass gains*
Delicious flavors!
NO jitters or feeling on edge *
Transparent dosing
Key Ingredients
L-Citrulline: L-Citrulline is an amino acid that increases levels of L-arginine -- the "fuel" for nitric oxide production. Greater NO production supports greater blood flow, nutrient delivery, energy production, and exercise performance.*
Betaine: Betaine is a naturally-occurring compound found in beets that enhances cellular hydration and has been noted to improve energy production as well as strength and power output during exercise.*
Caffeine: Each full serving of Mega Pre Red contains 400mg caffeine from a combination of fast and slow-acting caffeines providing both immediate and long-lasting energy to help you push harder and last longer during training.*
Alpha GPC: Alpha GPC is a highly bioavailable choline-containing supplement that supports acetylcholine production, promoting greater focus and a stronger mind-muscle connection.*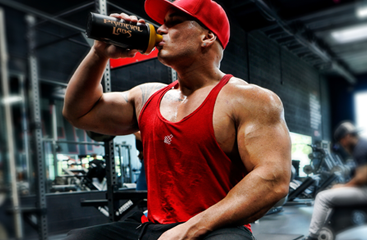 Supports Your Goals
The combination of ingredients in Mega Pre Red has been extensively tested to deliver a pre workout experience like none other, helping athletes push harder and last longer in the gym.*
One of the best features of Mega Pre Red is the combination of Betaine + Taurine, which enhances cell hydration and volumization, ultimately promoting greater endurance and muscle fullness while resisting the onset of fatigue.*
Ideal for the fitness enthusiast seeking a hard-hitting, high-performance pre workout supplement.*
Good To Know
Mega Pre Red represents the next level of innovation and refinement, offering consumers a more dialed in, more potent pre workout experience.*
Mega Pre Red mixes easily, tastes absolutely amazing, resists clumping, and contains no banned substances.
As with all Primeval Labs supplements, Mega Pre Red is tested for quality, purity, and potency to deliver only the most ultra-premium products on the market.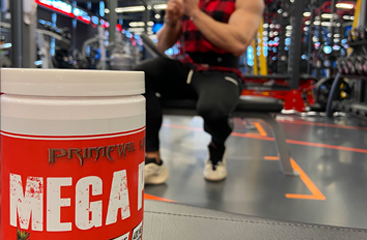 About The Brand
Our brand Primeval Labs was started and designed to do two things extremely well, make effective formulas that deliver our customer the best options for sports supplements and deliver the best tasting line of supplements on the market. We believe we have achieved just that with every product we offer. Not only is it important for us to support your goals, but we want you to truly enjoy each and every one of our products each time you use them.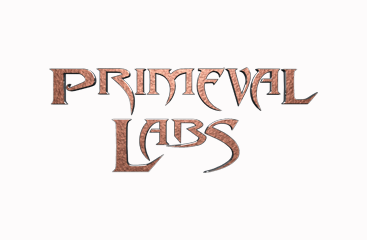 Ratings & Reviews
What's in Primeval Labs Mega Pre Red
Serving Size: 1 Scoop (10.1g)

Servings Per Container:

40

Amount Per 1 Scoop**

% Daily Value *

L-Citrulline

3,000 mg

†

Beta Alanine

1,600 mg

†

Beta Anhydrous

1,500 mg

†

Choline Bitartrate

1,000 mg

†

L-Taurine

1,000 mg

†

Alpha-Glyceryl Phosphoryl Choline 50% (Alpha GPC)

200 mg

†

Caffeine Anhydrous

175 mg

†

Dicaffeine Malate (Infinergy™)

34 mg

†

Toothed Clubmoss (Huperzia serrata) (aerial parts) (standardized to 1% Huperzine A

50 mcg

†

* Percent Daily Values based on a 2000 calorie diet.

† Daily Value Not Established

Other Ingredients:

Silicon Dioxide

, Natural Flavors

, Citric Acid

, Sucralose

, Red #40

Total Caffeine: 200 mg (per 1 scoop), 400 mg (per 2 scoops)
Directions For Mega Pre Red: Suggested Use: Take 1-2 scoops of MEGA PRE RED in 6-8oz of cold water. Start with 1 scoop to assess tolerance prior to moving to the 2 scoop serving size.
Warnings: WARNINGS: Read entire label and obtain clearance from a licensed healthcare practitioner before use. This product is to be used by healthy adults only. Do not use if you have or could develop any medical condition or are taking any prescription drugs. Do not use if you are pregnant, nursing, or may become pregnant. Do not use more than the recommended dosage. Discontinue use and consult a physician if any adverse reactions occur. Keep lid tightly closed and in a cool, dry place. As with all supplements, KEEP OUT OF REACH OF CHILDREN AND ANIMALS.
* These statements have not been evaluated by the Food and Drug Administration. This product is not intended to diagnose, treat, cure, or prevent any disease.
---