Primeval Labs
Intracell 7
, 20 Servings Watermelon
Contains 20g fast-digesting carbohydrates for energy*
Intra-workout supplement to support performance & endurance*
Product Overview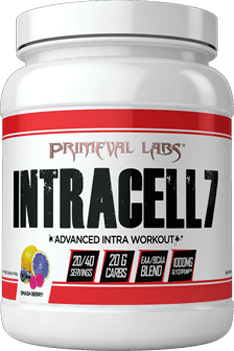 Primeval Labs Intracell 7
Intracell 7 was formulated with the goal being to create the ultimate performance-enhancing sports drink on the market.* Each serving of Intracell 7 delivers over 35 g of pure performance ingredients that you will notice the first dose!
Intracell 7 was formulated with the goal being to create the ultimate performance-enhancing sports drink on the market. Each serving of Intracell 7 delivers over 35 g of pure performance ingredients that you will notice the first dose!*
Intracell 7 At-A-Glance
Provides all nine essential amino acids to support muscle protein synthesis*
20 grams fast-digesting, performance enhancing carbohydrates for energy production and glycogen replenishment*
1g agmatine for enhanced nitric oxide production, blood flow, and performance*
Taurine + GlycerPump
Superior Mixability
Why The Need For Intra Workout Supplementation?
While much of the discussion surrounding peri-workout nutrition centers on pre and post workout needs, during your workout is the time when nutrient requirements are at a premium. As you bang out rep after rep, muscled accumulate waste products from the repeated contractions, leading to fatigue. On top of that, exercise also increases amino acid metabolism as a result of the greater energy demands.
Suffice it to say, if you don't have what your body wants when it needs it, your performance goes from 100 to 0 in the blink of an eye. Intracell 7 was created to supply the most critical nutrients your muscles need when they need it most.*
Intracell 7 Up-Close
Essential Amino Acids
Your body requires nine essential amino acids (EAAs) to build and repair muscle tissue.*
Without all of the EAAs present in sufficient quantities your body's ability to recover, repair, and grow is severely hampered. And it is here that we see a fundamental flaw present in many products claiming to be an intra workout supplement -- they're completely missing six of the nine EAAs required for protein synthesis!
Intracell 7 was meticulously formulated to provide everything your muscles need to maximize muscle protein synthesis before, during, and after your training session for superior recovery and growth.*
Cluster Dextrin®
Carbs fuel performance, it's as simple as that. Throughout the years, intra workout supplements have included carbohydrates on and off, but for the most part, the carbs included in the intra workouts of yesteryear were slow-digesting and hard on the GI system, leaving athletes feeling "heavy" and sluggish.
Cluster Dextrin® is a revolutionary performance carb boasting a lower osmolality and higher molecular weight than just about any other training carbohydrate. Due to the unique molecular structure of Cluster Dextrin®, it rapidly moves through the GI system, without causing stomach upset, and is immediately taken up by your muscles where its used to drive and sustain your performance.* Not only does Cluster Dextrin® enhance your performance, it can also speed recovery and glycogen replenishment.*
Palatinose™
Providing the other half of Intracell 7's carbohydrate duo is Palatinose (isomaltulose). Palatinose is a low glycemic form of sucrose.*
Studies using Palatinose note it enhances fat oxidation during intense exercise, thereby sparing your glycogen stores for later on in the workout when they're needed most.*
Taurine
Taurine is a conditionally essential amino acid that helps regulate water and mineral levels in the body. As such, taurine can promote muscle size and endurance by encouraging your muscle cells to absorb more fluid, which also enhances nutrient absorption.*
Agmatine Sulfate
Agmatine is a highly underrated training supplement. For starters, it supports nitric oxide production by inhibiting arginase, the enzyme that degrades Arginine.* This leads to greater oxygen and nutrient delivery to working muscles along with enhanced waste removal. The end result is better performance and denser, longer-lasting pumps.*
Glycerpump™
Glycerol has been a staple supplement of athletes for years due to its cell-saturating, endurance-boosting properties.* However, the forms of glycerol typically used suffered from low glycerol content, poor shelf stability (i.e. spoilage), and clumping.
Enter Glycerpump, the next evolution in glycerol supplementation. GlycerPump is a new high-yield form of glycerol offering 65% glycerol by mass without the clumping debacle of previous glycerol supplements. Gone are the days of throwing out brand-new tubs of chunky, rock solid powder. With GlycerPump, you get all the performance and hydration benefits of glycerol without the headaches, frustration and waste.*
Ratings & Reviews
What's in Primeval Labs Intracell 7
Serving Size 2 Scoops (35.2g)

Servings Per Container

20

Amount Per 2 Scoops

% Daily Value *

Calories

90

Total Carbohydrate

22 g

8%

Total Sugars

10 g

†

Essential Amino Blend:

4,820

mg

†

L-Leucine, L-Isoleucine, L-Valine, L-Lysine, L-Threonine, L-Phenylalanine, L-Tryptophan, L-Histidine, L-Methionine

Highly Branched Cyclic Dextrin (Cluster Dextrin®)

10 g

†

Isomaltulose (Palatinose™)

10 g

†

L-Taurine

2 g

†

Agmatine Sulfate

1 g

†

Glycerol Powder (standardized to 65% Glycerol)(GlycerPump™)

1 g

†

* Percent Daily Values based on a 2000 calorie diet.

† Daily Value Not Established

Other Ingredients:

Silicon Dioxide

, Citric Acid

, Natural & Artificial Flavors

, Sucralose

, Red #40
Directions For Intracell 7: As a dietary supplement, take (up to 2 scoops as needed for maximum effect) do not exceed 4 scoops per day.
Warnings: Read entire label and obtain clearance from a licensed healthcare practitioner before use. This product is to be used by healthy adults only. Do not use if you have or could develop any medical condition or are taking any prescription drugs. Do not use if you are pregnant, nursing, or may become pregnant. Do not use more than the recommended dosage. Discontinue use and consult a physician if any adverse reactions occur. Keep lid tightly closed and in a cool, dry place. As with all supplements, KEEP OUT OF REACH OF CHILDREN AND ANIMALS.
* These statements have not been evaluated by the Food and Drug Administration. This product is not intended to diagnose, treat, cure, or prevent any disease.
---