Currently Unavailable
Primeval Labs
EAA Sleep
Contains 6g of EAAs to support nighttime repair & growth*
With 2.5g melatonin for sleep quality & duration*
Product Overview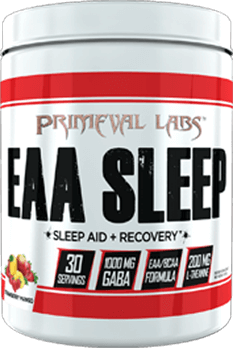 Primeval Labs EAA Sleep
EAA Sleep is a nighttime recovery aid formulated to improve your sleep.* With EAA Sleep, you'll fall asleep faster and have a deeper, more "productive" night's rest.*
To further support recovery and muscle growth, EAA Sleep delivers over 6 grams of essential amino acids, ensuring your body has everything it needs for nighttime repair and growth. And, to top it off, EAA Sleep also tastes phenomenal!*
EAA Sleep At-A-Glance
Promotes muscle repair, recovery and growth*
2.5mg melatonin
Supports sleep quality and duration*
Supports a healthy mood*
The Importance Of Sleep
Without a doubt, the most overlooked aspect of muscle growth is sleep. Most lifters nail the training, nutrition, and supplementation required to build muscle, but few give sleep the same attention.
Poor sleep stunts recovery, reduces subsequent athletic performance, hinders muscle growth, and blunts cognitive function. You've probably experienced this yourself from time to time. EAA Sleep helps quiet your mind, relax your body, and lull you into a sweet, restorative slumber so that you awake the next day ready to tackle all of life's challenges.*
EAA Sleep Up-Close
GABA (1g)
GABA, short for Gamma-Aminobutyric Acid, is the primary inhibitory neurotransmitter in the body that is essential for relaxation.*
L-Theanine (200mg)
Found prevalently in tea leaves, L-Theanine is an amino acid that promotes relaxation, reduces stress, and improves sleep.* Similar to GABA, theanine increases alpha waves in the brain, helping you relax and turn "off" that busy mind that routinely keeps you up at night. 5-HTP (100mg)
Derived from tryptophan, 5-HTP (5-hydroxytryptophan) is a precursor to serotonin, the neurotransmitter associated with happiness and contentment. This compound promotes relaxation and sleep, and when combined with GABA, as it is in EAA Sleep, the two have been shown to support healthy sleep patterns.*
Melatonin (2.5mg)
Melatonin is a naturally-occurring hormone secreted by the brain tells your body when it's time enter "sleep mode." Unfortunately, our constant exposure to blue light from electronic devices disrupts our melatonin production, and subsequently our sleep.
Supplementing with melatonin can promote healthy sleep patterns.*
Essential Amino Acids
To support your body's recovery and growth processes while you sleep, EAA Sleep provides a full complement of all nine essential amino acids, including 5g of 2:1:1 BCAA. Consuming these essential protein building components helps ensure your body has all of the raw materials it needs to maximize repair, recovery and growth all night long.*
Ratings & Reviews
What's in Primeval Labs EAA Sleep
1 Scoop (10.3g)

Servings Per Container: 30

Amount Per Serving

% Daily Value

Magnesium (as magnesium citrate, magnesium glycinate glutamine chelate)

17 mg

4%

Sodium (as pink himalayan salt)

39 mg

2%

Potassium (as potassium citrate, coconut water concentrate)

52 mg

1%

Sleep Aid:

Gamma Aminobutyric Acid (GABA)

1 g

†

L-Theanine

200 mg

†

5-Hydroxytryptophan (5-HTP)

100 mg

†

Melatonin

2.5 mg

†

Branched Chain Amino Acids:

L-leucine

2,500 mg

†

L-Isoleucine

1,250 mg

†

L-Valine

1,250 mg

†

Essential Amino Acids:

L-Lysine Hydrochloride

300 mg

†

L-threonine

225 mg

†

L-phenylalanine

200 mg

†

L-Tryptophan

50 mg

†

L-Histidine

25 mg

†

L-Methionine

20 mg

†

* Percent Daily Values are based on a 2000 calorie diet

† Daily Value not established

OTHER INGREDIENTS:

Citric Acid

, Natural Flavors

, Sucralose

, Silicon Dioxide

, Red #40
Directions For EAA Sleep: Take 1 Scoop of EAA Sleep in 12-140z of ice cold water 20-30 minutes prior to bed time.
Warnings: Read entire label and obtain clearance from a licensed healthcare practitioner before use. This product is to be used by healthy adults only. Do not use if you have or could develop any medical condition or are taking any prescription drugs. Do not use if you are pregnant, nursing, or may become pregnant. Do not use more than the recommended dosage. Discontinue use and consult a physician if any adverse reactions occur. Keep lid tightly closed and in a cool dry place. As with all supplements, KEEP OUT OF REACH OF CHILDREN AND ANIMALS.
* These statements have not been evaluated by the Food and Drug Administration. This product is not intended to diagnose, treat, cure, or prevent any disease.
---