Primeval Labs
EAA Max
With full amino acid profile and 5g of BCAAs per serving to support muscle growth & recovery*
With electrolyte & hydration support, no artificial flavors or Ace-K*
Product Overview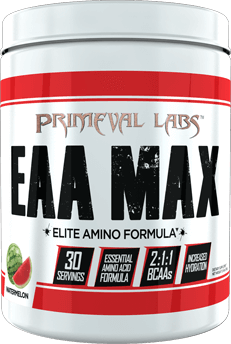 Primeval Labs EAA Max
EAA Max is your all day, every day amino acid supplement, specifically formulated to supply your body with all of the essential amino acids (EAAs) needed to build, repair, and maintain muscle.*
EAA Max is stimulant-free and can be taken before, during, or after your workout to support muscle building and protect against muscle breakdown.* EAA Max can also be consumed any other time of day, or used as a low calorie snack between meals to promote anabolism. Available in 8 mouthwatering flavors, EAA Max offers a versatile, nutritious option to support your athletic lifestyle.*
EAA Max At A Glance
Full Essential Amino Acid Profile
Includes 5g BCAA using research-backed 2:1:1 ratio
Electrolyte and Hydration Support*
Muscular Energy and Nutrient Delivery Matrix*
Transparent Dosing
NO Artificial Flavors
NO Ace-K
Why Use EAA Over BCAA?
For years, BCAA supplements ruled the amino acid category, touting high amounts of leucine, delicious flavoring, and the prospect of enhanced muscle protein synthesis.* But, here's the dirty little secret left out of the BCAA hype -- they don't provide your muscles with all of the "building blocks" required to build muscle protein.*
In a sense, supplementing with BCAA is akin to fielding a football team with only 6 of its 11 players. While it's a decent option, it's not as good as it could be. To fully support the requirements of protein synthesis, you need all nine essential amino acids, and that's precisely what you should demand from your amino acid product.
EAA Max Up-Close
EAA Max provides the full spectrum of essential amino acids, including 5g of 2:1:1 BCAA, to maximize muscle protein synthesis, support recovery, reduce DOMS and guard against muscle breakdown during training.*
Also included in every serving of EAA Max are valuable electrolytes to optimize hydration and refuel mineral stores as well as a Muscular Energy & Nutrient Delivery Matrix to facilitate amino acid uptake and utilization.*
Here's more on the benefits of the essential amino acids:
Leucine
The undisputed "king" of the amino acids, leucine serves as the catalyst that flips the switch on muscle protein synthesis, leading to muscle repair, recovery, and growth.*
Isoleucine
Leucine's "little brother", isoleucine also can stimulate protein synthesis, but not to the same degree as its big brother. Isoleucine also enhances glucose utilization during exercise, allowing for better energy production.*
Valine
The final member of the BCAA triumvirate, valine supports energy conversion and glycogen synthesis in muscle tissue. But equally important is its ability to boost endurance and delay the onset of fatigue due to valine "blocking out" tryptophan from uptake into the brain. Valine and Tryptophan compete for the same receptor, with valine winning easily. As a result, tryptophan cannot enter the brain and be converted into serotonin which ultimately offsets fatigue.*
EAA
Complementing the three BCAA are the other six essential amino acids needed to synthesize muscle protein. Among these essential amino acids are lysine, threonine, phenylalanine, tryptophan, histidine, and methionine. In addition to their role in supporting protein synthesis, the EAA also serve a critical role in cell repair, energy production, digestion, and neurotransmitter synthesis.* They also help protect against unwanted muscle breakdown, which can occur during intense training.*
Ratings & Reviews
What's in Primeval Labs EAA Max
30 Servings

Cherry Lemonade

Serving Size: 1 Scoop (11.8 g)

Servings Per Container:

30

Amount Per Serving

% Daily Value *

Calories

10

Total Carbohydrate

2 g

1%*

Magnesium (as magnesium citrate, magnesium glycinate glutamine chelate)

17 mg

4%

Sodium (as pink himalayan salt)

39 mg

2%

Potassium (as potassium citrate, coconut water concentrate)

52 mg

1%

Branch Chain Amino Acids:

L-Leucine

2,500 mg

†

L-Isoleucine

1,250 mg

†

L-Valine

1,250 mg

†

Essential Amino Acids:

L-Lysine Hydrochloride

300 mg

†

L-Threonine

225 mg

†

L-Phenylalanine

200 mg

†

L-Tryptophan

50 mg

†

L-Histidine

25 mg

†

L-Methionine

20 mg

†

Muscular Energy & Nutrient Delivery:

Highly Branched Cyclic Dextrin (ClusterDextrin®)

2,000 mg

†

D-Ribose

500 mg

†

* Percent Daily Values are based on a 2000 calorie diet.

† Daily Value Not Established

Other Ingredients:

Citric Acid

, Natural Flavors

, Sucralose

, Silicon Dioxide

, Red #40

Allergen Warning: Contains Coconut
Directions For EAA Max:
As a dietary supplement, mix one scoop (11.8g) of EAA Max in 10-12oz of cold water.
Consume during exercise on training days, or throughout the day both training and non-training days.
Warnings: Read entire label and obtain clearance from a licensed healthcare practitioner before use. This product is to be used by healthy adults only. Do not use if you have or could develop any medical condition or are taking any prescription drugs. Do not use if you are pregnant, nursing, or may become pregnant. Do not use more than the recommended dosage. Discontinue use and consult a physician if any adverse reactions occur. Keep lid tighly closed and in a cool, dry place. As with all supplements, KEEP OUT OF REACH OF CHILDREN AND ANIMALS.
* These statements have not been evaluated by the Food and Drug Administration. This product is not intended to diagnose, treat, cure, or prevent any disease.
---