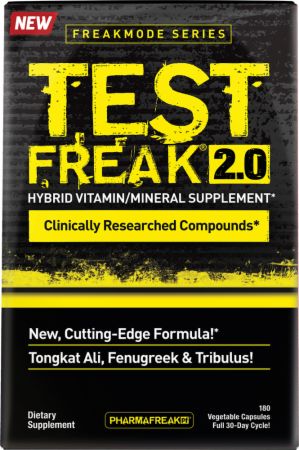 PharmaFreak
TEST FREAK 2.0
, 180 Vegetable Capsules
Testosterone boosting capsules to support natural testosterone levels & libido*
Tongkat ali, N-acetyl-Lcysteine, selenium, bromelain, astragalus, arugula & aloe vera in every serving
Product Overview


Our Most
Advanced
Test Booster!
New Test-Boosting Ingredients!*
Enhances Libido!*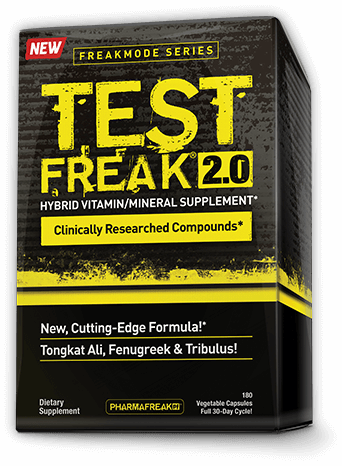 Why It Works
TEST FREAK® 2.0 is a new and improved, testosterone-boosting supplement! TEST FREAK® 2.0 is formulated to support natural testosterone production and healthy estrogen and cortisol levels. TEST FREAK® 2.0 can support muscle growth, strength, recovery and libido!*
Why It's Better
TEST FREAK® 2.0 contains all of the ingredients from the original TEST FREAK formula, in addition to 7 new ingredients! Furthermore, these 7 new ingredients work via unique mechanisms of action!*
7 New Ingredients In Test Freak 2.0
100 mg of tongkat ali.

This ingredient works via a unique mechanism of action. Tongkat ali supports the release rate of "free" testosterone from its binding hormone, sex-hormone-binding-globulin (SHBG). Tongkat ali also helps support normal cortisol levels.*

600 mg of N-acetyl-L-cysteine (NAC).

NAC has an antioxidant effect when combined with selenium.*

200 mcg of selenium.

Selenium has an antioxidant effect when combined with NAC.*

1 gram of bromelain.

Through certain mechanisms, supplementation with 1 gram of bromelain is shown to maintain natural testosterone levels in athletes.*

500 mg of astragalus.

This adaptogen supports the Leydig cells, the cells in the testes that produce natural testosterone.*

200 mg of rocket/arugula (Eruca sativa).

Rocket has a supportive effect for hormone levels within a natural range.*

60 mg of aloe vera leaf gel.

Aloe stimulates the activity of Leydig cells.*
Ratings & Reviews
What's in PharmaFreak TEST FREAK 2.0
Serving Size 6 Vegetable Capsules

Servings Per Container

30

Amount per Serving

% Daily Value

Vitamin B6 (as Pyridoxine Hydrochloride)

10.5 mg

620%

Magnesium (as Magnesium Aspartate)

90 mg

21%

Zinc (as Zinc Acetate)

15 mg

136%

Selenium (as Selenium Amino Acid Chelate)

200 mcg

364%

Bromelain (Ananas comosus var. comosus, Stem)

1,000 mg

∆

N-Acetyl-L-Cysteine

600 mg

∆

Tribulus (Tribulus terrestris, Fruit)

500 mg

∆

Astragalus (Astragalus membranaceus, Root)

500 mg

∆

Fenugreek (Trigonella foenum-graecum, Seed)

400 mg

∆

Rocket/Arugula (Eruca sativa, Whole Plant)

200 mg

∆

Fenugreek (Trigonella foenum-graecum, Seed)

150 mg

∆

Tongkat Ali (Eurycoma longifolia, Root)

100 mg

∆

Saw Palmetto (Serenoa repens, Fruit)

80 mg

∆

Stinging Nettle (Urtica dioica, Leaf)

60 mg

∆

Aloe Vera (Leaf Gel)

60 mg

∆

Resveratrol

25 mg

∆

Hesperidin (Fruit)

25 mg

∆

Chamomile (Matricaria chamomilla, Flower)

25 mg

∆

∆ Daily Values not established.

Other Ingredients:

Hypromellose Vegetable Capsule Shell

, Dicalcium Phosphate

, Microcrystalline Cellulose

, Magnesium Stearate

, Silica.
Directions For TEST FREAK 2.0: As a dietary supplement, adults take 6 capsules daily. Alternatively, take 3 capsules twice daily. Combine with a diet and training program for best results. Do not exceed 6 capsules per day.
Warnings: KEEP OUT OF REACH OF CHILDREN. Do not use if you are pregnant or nursing. Not intended for use by persons under the age of 18. Consult a physician before using this product if you have any medical condition, if you require surgery, or if you are taking any over-the-counter or prescription medication. Use only as directed. Do not exceed recommended serving, as improper use of this product does not enhance results. Do not use if the inner safety seal on this package has been broken. Store in a cool, dry place.
* These statements have not been evaluated by the Food and Drug Administration. This product is not intended to diagnose, treat, cure, or prevent any disease.
---