Performix
SST Pre Workout
, 25 Servings Blueberry Lemonade
SST Pre - Molecular Hydrogen Infused Pre-Workout
A best-in-class pre-workout formula that is anchored by industry-renowned ingredients to provide energy, focus, thermogenesis, pump, and endurance for your workout.*
Product Overview
Proudly supports first responders & nurses with Bodybuilding.com and ID.me. Verify Here
PERFORMIX® SST PRE provides a best-in-class, transparently dosed, efficacious pre-workout with the added benefit of our patent pending molecular hydrogen matrix to improve alkalinity, providing lactic acid buffering and increased ATP generation to help supercharge your workouts.*
Product Benefits
Molecular hydrogen generates, two key benefits supercharge your workout, Lactic Acid Buffering and Increased ATP Generation.*
The buffering of lactic acid improves performance as it decreases the "burn" but also prevents fatigue.*
By supporting mitochondrial production, we are generating power for your cells, which means power for your workouts.*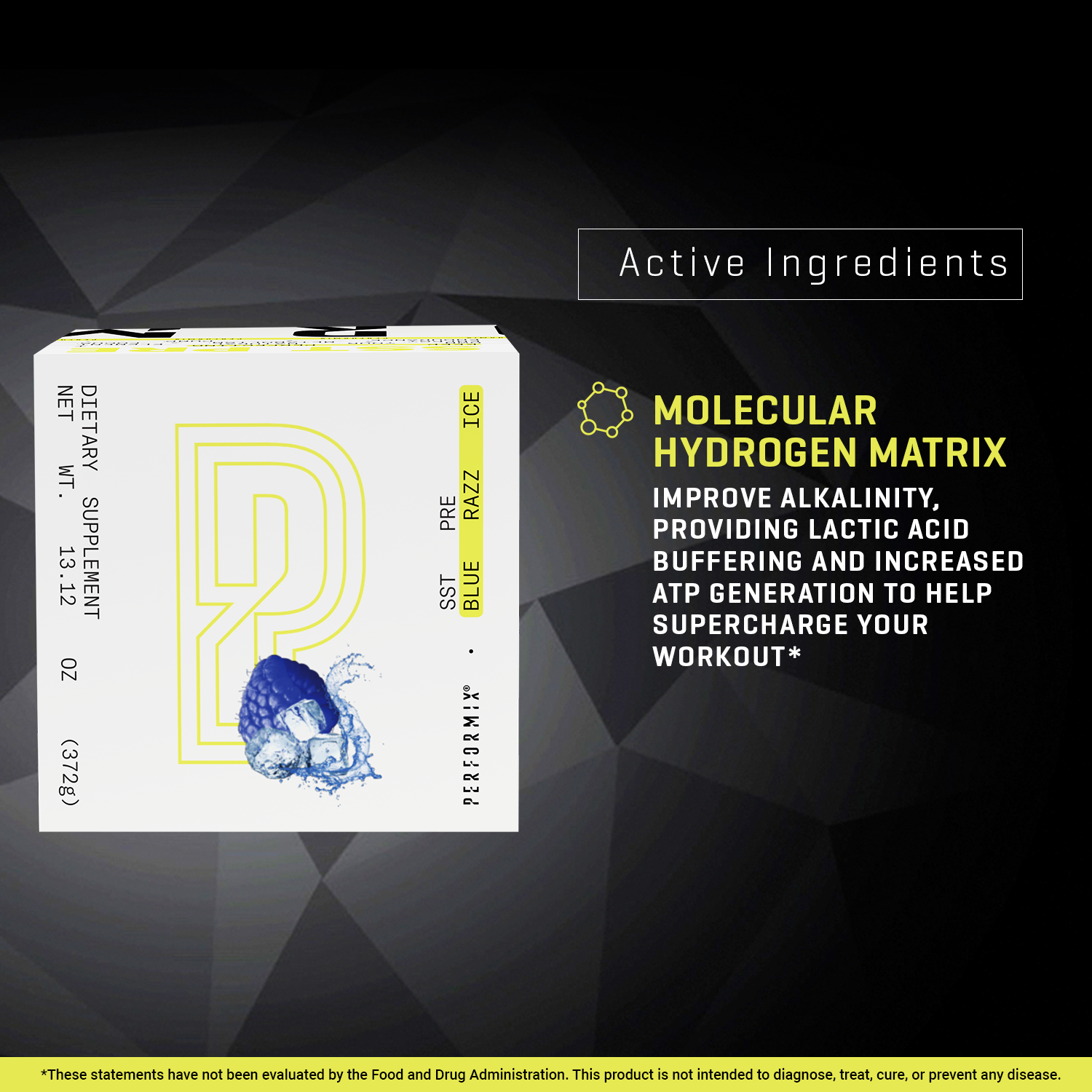 Key Ingredients
PERFORMIX® SST PRE is powered by our patent-pending Molecular Hydrogen Matrix, which consists of a combination of 1,000 mg of Acetyl L-Carnitine HCI, magnesium salts, acids, and Redmond's Ancient Sea Salt containing elemental trace minerals, which supports whole body alkalinity and generates molecular hydrogen.*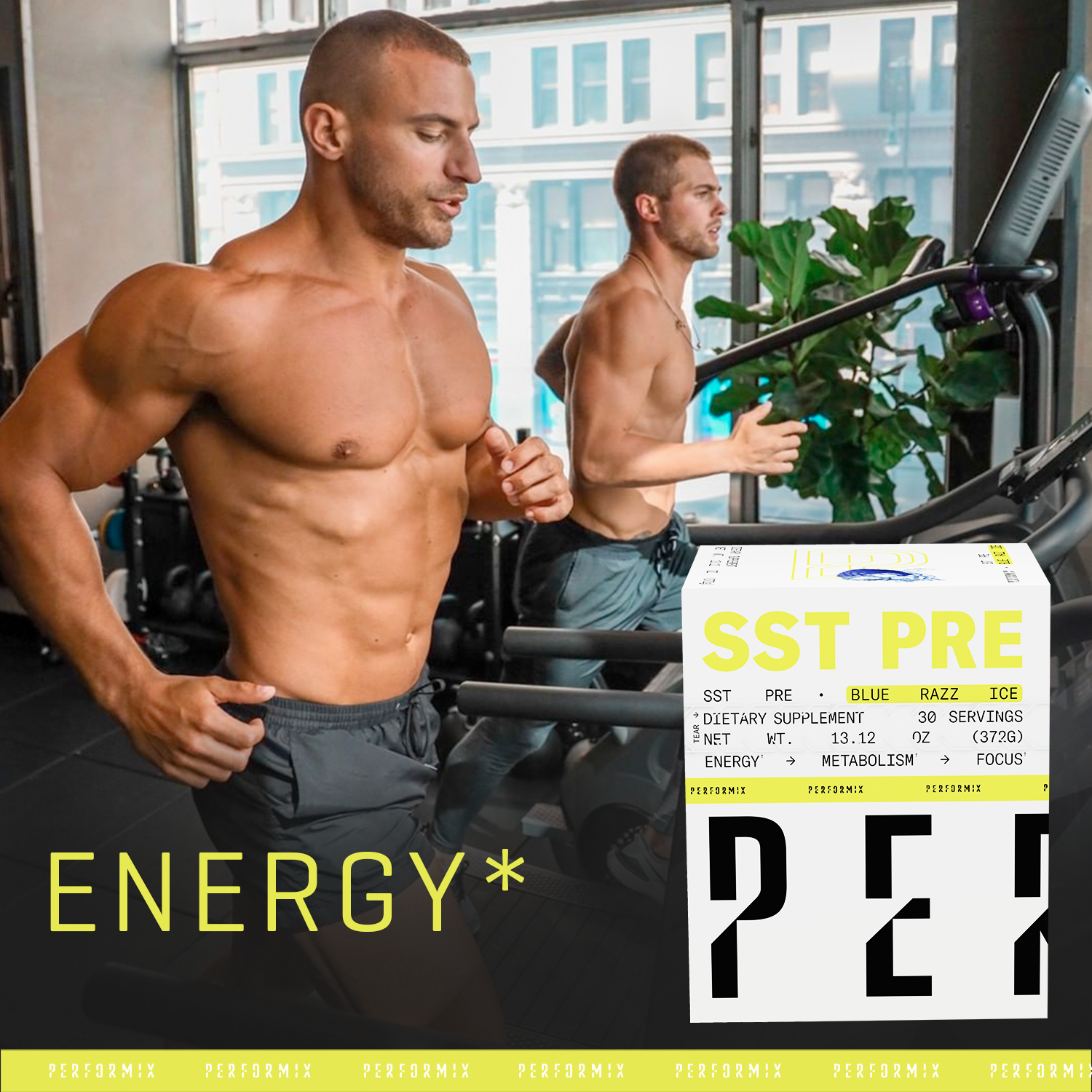 Supports Your Goals
Boasts ingredients aimed at boosting energy, metabolism, focus, endurance, and pump, including caffeine, Lion's Mane mushroom, and L-Theanine for energy and focus, Yohimbe Bark Extract for metabolism, plus industry staples CarnoSyn® Beta-Alanine and Citrulline Malate for increased blood flow.*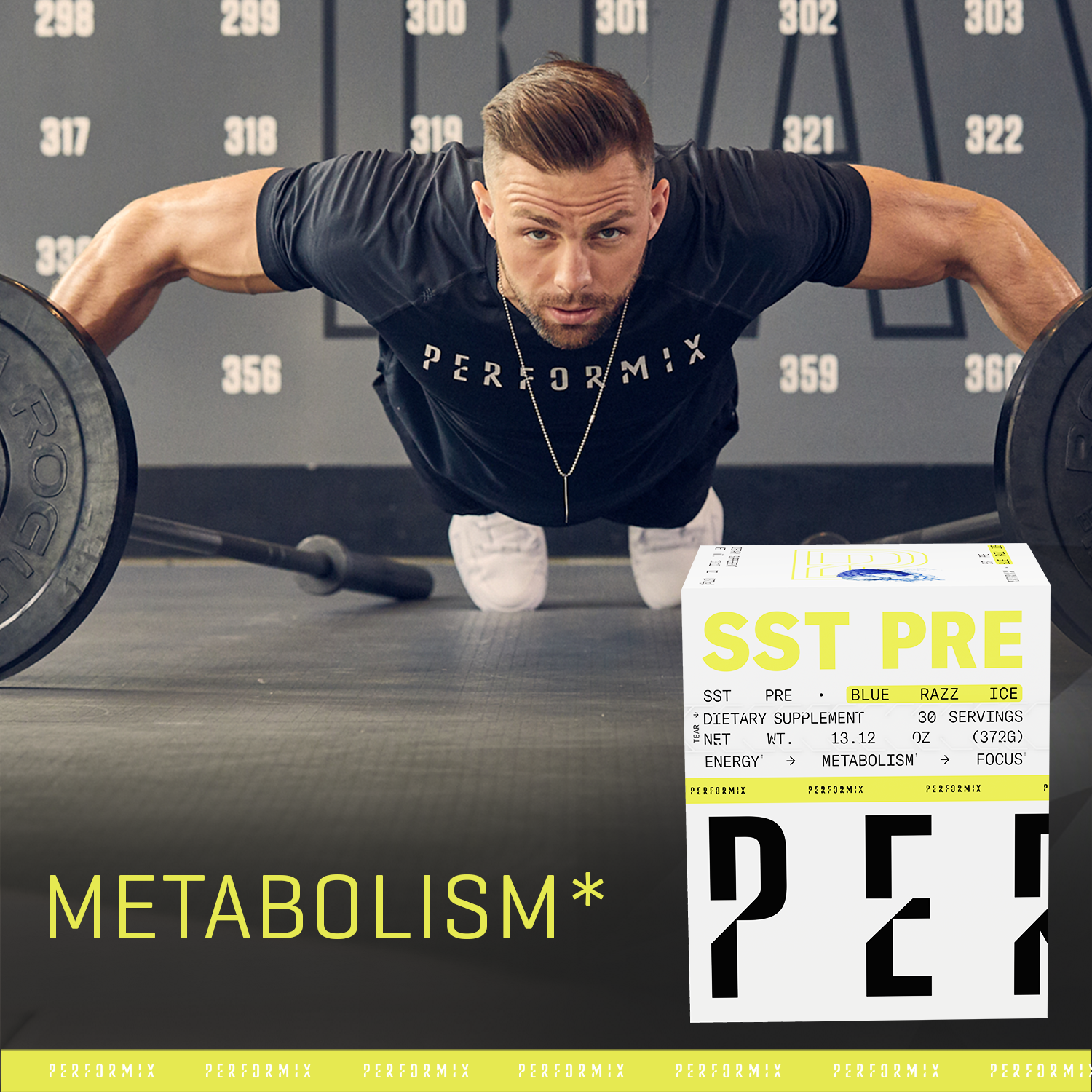 Good To Know
PERFORMIX® SST PRE has been tested by the best, for the best. Through the Element group fitness class at PERFORMIX House in New York City, trainers and clients have proven the efficacy of SST PRE by tracking their increased caloric burn & percent of max heart rate while taking the class on SST PRE vs. off SST PRE.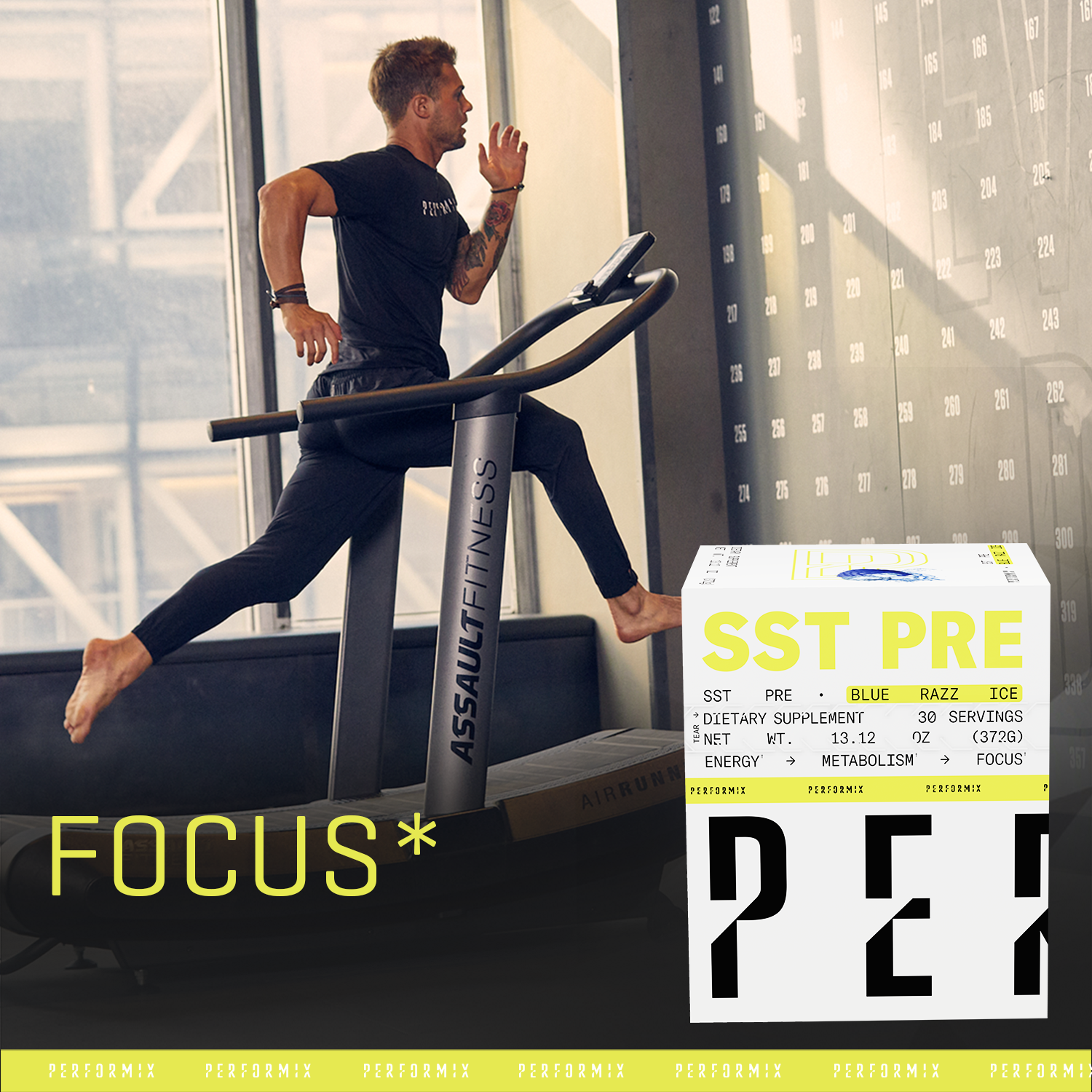 About The Brand
PERFORMIX® is a fitness movement. Whether you are a workout warrior or just getting started, we are here to inspire and fuel you. #FuelYourPurpose and your workouts.

Ratings & Reviews
What's in Performix SST Pre Workout
SUPPLEMENT FACTS

Serving Size 1 Scoop (9.4g)

Servings Per Container: 25

Amount Per Serving

% Daily Value*

Calories

5

Total Carbohydrates

1 g

<1%

Vitamin B12 (as Methylcobalamin)

2.5 mcg

104%

Magnesium (as Dimagnesium Phosphate, Magnesium Bisglycinate Chelate and Trimagnesium Citrate)

45 mg

11%

Sodium (as Ancient Sea Salt and Bicarbonate)

205 mg

9%

L-Citrulline DL-Malate 2:1

2,000 mg

**

Carnosyn® Beta Alanine

1,600 mg

**

Molecular Hydrogen Matrix

3,000 mg

**

Proprietary Patent Pending Complex of Acetyl-L-Carnitine HCl (1,000 mg)

, Molecular Hydrogen Matrix 3000mg

, Citric and Malic Acids

, Ancient Sea Salt Containing Elemental Trace Minerals (500 mg)

, Dimagnesium Phosphate

, Magnesium Bisglycinate Chelate

, Trimagesium Citrate(delivering 45mg magnesium)

Energy, Metabolism, and Focus Complex

895 mg

**

Caffeine Anhydrous (300 mg)

, Lion's Mane (Hericium erinaceus) [fruit body] Mushroom Powder (250 mg)

, L-Theanine (200 mg)

, Grape Seed Extract (100mg)

, Yohimbe Bark Extract (Yohimbine 8%) (40 mg)

, BioPerine® (Black Pepper Fruit Extract) (5 mg)

((black pepper extract) (standarized to 95% piperine))

*The % Daily Value (DV) tells you how much a nutrient in a serving of food contributes to a daily diet.2,000 calories a day is used for general nutrition advice

**Daily Value Not Established

Ingredients

Natural Flavor

, Silicon Dioxide

, Calcium Silicate

, Sucralose

, Acesulfame Potassium

, Grape Skin Extract (for color)

, Vegetable Juice (Color)
Directions For SST Pre Workout: As a dietary supplement, adults mix 1 serving (1 scoop) with 8-10 ounces of cold water 20-30 minutes prior to workout. Do not exceed recommended dosage.
Warnings: WARNING:DO NOT USE IF PREGNANT, NURSING, OR PLAN ON BECOMING PREGNANT. THIS PRODUCT IS INTENDED FOR USE BY HEALTHY ADULTS OVER THE AGE OF 18 AND SHOULD BE AVOIDED BY THOSE SENSITIVE TO CAFFEINE OR OTHER INGREDIENTS THAT HAVE KNOWN STIMULANT EFFECTS. Do not combine with alcohol. Not intended for use by those with a medical condition. Use only as directed. Do not exceed recommended daily intake. Consult a physician or licensed qualified health care professional prior to use if you are taking medication including, but not limited to, MAO inhibitors, antidepressants, aspirin, nonsteroidal anti-inflammatory drugs or products containing phenylephrine, ephedrine, pseudoephedrine, or other stimulants, or if you have a medical condition including, but not limited to heart, liver, kidney, or thyroid disease, psychiatric or epileptic disorders, di"culty urinating, diabetes, high blood pressure, cardiac arrhythmia, recurrent headaches, enlarged prostate or glaucoma. Discontinue 2 weeks prior to surgery or if you experience rapid heartbeat, dizziness, severe headache, or shortness of breath. DO NOT USE IF SAFETY SEAL UNDER CAP IS BROKEN. KEEP OUT OF REACH OF CHILDREN.
* These statements have not been evaluated by the Food and Drug Administration. This product is not intended to diagnose, treat, cure, or prevent any disease.
---