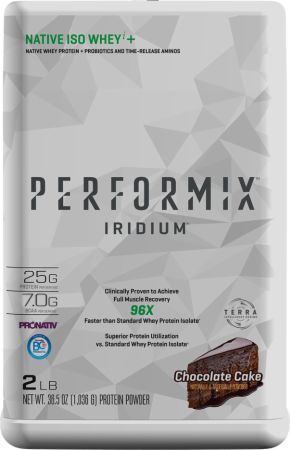 Performix
Iridium Series Native ISO Whey+
The Purest Whey Protein Available Due To Its Unique, Clean And Low Temperature Extraction Process
Fast Absorbing Protein Powder With Amino Acids
Product Overview
Native Whey Protein + Probiotics and Time-Release Aminos
Clinically Suggested to Support Muscle Recovery Faster than Standard Whey Protein Isolate.* Superior Protein Utilization vs. Standard Whey Protein Isolate.*
Formulated with Clean Undenatured Pronativ® Whey
Pronativ is the purest whey protein available due to its unique, clean and low temperature extraction process. Proteins are extracted from top quality hormone-free milk to preserve it's properties without collecting the typical cheese residues, GMP, added ingredients and chemical agents found in the standard Whey Protein Isolate.
Clinically Suggested to Support Muscle Recovery faster than Standard Whey Protein Isolate*
Pronativ supports a supercharged 30-minute recovery time, compared to 48 hours with standard Whey Protein Isolate. The addition of our time-released ISO beads helps replenish key nutrients and extend the recovery benefits over multiple hours helping to combat muscle soreness and fatigue.*
Superior Protein Utilization vs. Standard Whey Protein Isolate*
PERFORMIX IRIDIUM Native Iso Wheyi+ is the only protein on the market that contains GanedenBC30 and Pronativ Whey. The addition of GanedenBC30 allows for improved protein utilization and absorption compared to standard Whey Protein Isolate while also aiding in digestion and immune support.*
%Protein Utilization†
TRADITIONAL WHEY PROTEIN ISOLATE
Terra Intelligent Dosing technology
Unique TERRA Intelligent Dosing technology offers controlled release of key metabolic ingredients. This targeted nutrient delivery system is designed to impact absorption and drive unparalleled results.
Advanced Multi-Phase Extended Release*
1
Free Form Amino Acids:
absorbed instantly and stimulate muscle protein synthesis
2
AMINOS WITHIN PROTEIN:
liberated through the body's natural digestive mechanism to stimulate muscle protein synthesis.*
3
TERRA ISO BEADS:
free form amino acids are released over an extended period of time with our patented technology.
AVAILABLE IN 3 FLAVORS
Ratings & Reviews
By clicking the button above, you agree to entering the Bodybuilding.com Reviews section. Products in the Store are not intended to diagnose, treat, cure, or prevent any disease.

Holy ****. I just had this protein for the first time today and I must say it blew me away. If you have ever tasted cake batter before, to me it takes pretty much identical to it. I mix mine with almond milk which give it and extra thickness and a better taste. This this the best protein powder I have ever tasted hands down.

Honestly I was afraid to try an fairly new and expensive product. However i haven't looked back. I love the flavors the mix-ability and premium ingredients. I've seen significant result and the pro-biotics included helped with the bloating I've had with other proteins powders.
10Chocolate Cake
10Vanilla Ice Cream
10Fruity Charms
My new favorite protein powder. I normally don't care how my protein taste as long as it work but then I tried this. The taste was amazing and is really high quality protein. It's a little spendy but if you have the money, it's worth it.
Good tasting protein that you'll look forward to drinking. I personally mix it up with some water to use post workout with a fast digesting carb (aka kids cereal!) and it tastes great. Doesn't aggravate my lactose intolerance either. Another good product from performix. Mixes great in a shaker. There isn't any aspect of this product that isn't at least an 8/10 which is saying site a bit with a lot of the other products out there. Would definitely recommend.
I highly recommend Native ISO Whey+ to everyone as it covers all bases of protein timing: free-form bcaas, Pronativ® whey isolate & extended time-release Terra Iso Beads. Pronativ® is uniquely high in L-Cysteine, L-Leucine, lactoferrin & immunoglobulins; GanedenBC30 is an extremely stable probiotic which is able to survive manufacturing processes, extended shelf life & digestion stresses. After taking this about 1hr after working out for a month I've consistently felt less sore & cramping in the following hours even though I strained my muscles to the fullest. The recovery time is definitely fast and best of all the chocolate cake flavoring is perfect! There aren't any hints of artificial taste and it closely resembles a brownie/chocolate cake. The only suggestion I have is to remove the unnecessary artificial coloring of the Terra Beads. Overall, this product is definitely worth it as it will alleviate the aches immediately following strenuous workout/cardio/sport sessions!
Let me start this off by saying I am normally not a fan of chocolate flavored protein. I'm more a vanilla/cinnamon kind of guy. The protein smells exactly like brownie/ chocolate cake batter. Maybe this is how all chocolate protein batter smells but this was my first time actually taking a chocolate protein. As for taste I'd give it a solid 8/10. It tastes pretty good and tastes similar to a brownie.
Free Item
2 Lbs.
28 Servings | $2.50 Per Serving
6 Packets
6 Servings | $3.33 Per Serving
What's in Performix Iridium Series Native ISO Whey+
Serving Size: 1 Scoop (37g)

Servings Per Container: 28

Amount Per Serving

Calories

130

Calories from Fat

20

% Daily Value *

Total Fat

2 g

3%

Saturated Fat

.5 g

3%

Trans Fat

0 g

Cholesterol

5 mg

2%

Sodium

240 mg

10%

Potassium

260 mg

7%

Total Carbohydrate

5 g

2%

Dietary Fiber

2 g

8%

Sugars

1 g

Protein

25 g

50%

Vitamin A

0%

Vitamin C

0%

Calcium

10%

Iron

8%

* Percent Daily Values are based on a 2,000 calorie diet. Your daily values may be higher or lower depending on your calorie needs.

Ingredients:

Pronativ® Native Whey Protein

, Natural and Artificial Flavors

, Alkalized Cocoa Powder

, Amino Acid Blend (L-Leucine

, L-Isoleucine

, L-Valine)

, Sea Salt

, Soy Lecithin

, Xanthan Gum

, Potassium Citrate

, Soluble Dietary Fiber

, Sunflower Oil

, Medium Chain Triglycerides

, Fractionated Palm Oil

, Bacillus coagulans GBI-30 6086

, Sucralose

, Microcrystalline Cellulose

, Hydroxypropyl Methylcellulose

, Ethylcellulose

, FD&C Yellow #5

, FD&C Blue #1

Contains: Milk, Soy.

This product was produced in a facility that may also process ingredients containing milk, eggs, fish, crustacean shellfish, tree nuts, peanuts, wheat and soybeans.
Directions For Iridium Series Native ISO Whey+: Mix or blend 1 scoop of Performix™ NATIVE ISO WHEY+ with 8 ounces of cold water, juice or milk. For best results, take Performix™ NATIVE ISO WHEY+ within 30 minutes after working out. Prior to each use, shake container vigorously to ensure evenly dispersed beads. Please read the entire label before use.
* These statements have not been evaluated by the Food and Drug Administration. This product is not intended to diagnose, treat, cure, or prevent any disease.
---