Performax Labs
SlinMax
, 120 Capsules
Boost amino acid and carbohydrate absorption to maximize muscle growth*
Insulin support to fuel and grow muscles*
Product Overview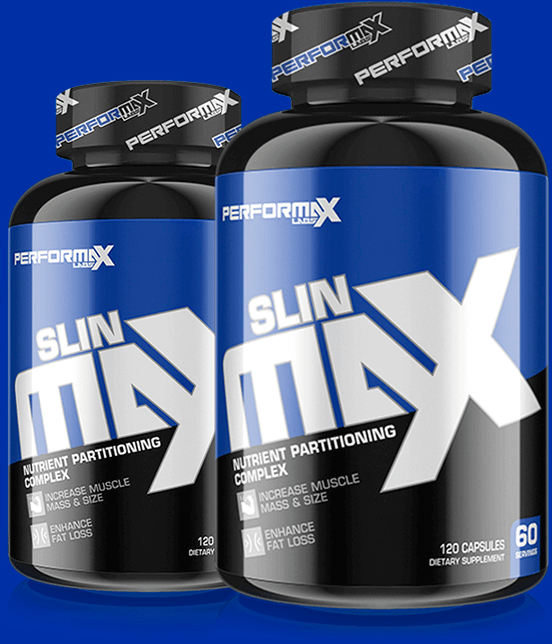 Insulin is an important hormone that regulates nutrient uptake into cells, such as muscle. For weightlifters, carbohydrate and amino acid uptake dictates how the body is able to fuel and grow muscles.
Muscle growth can be limited by amino acid availability, and limited carbohydrate availability can cause the muscle to cannibalize itself to convert amino acids into a fuel source – carbohydrate. Therefore, it is imperative that weightlifters keep their insulin levels optimized to ensure transport and delivery of essential nutrients.
To address these needs, Performax Labs' brings you SlinMax™, a precision formula to maximize nutrient partitioning – nutrient delivery to muscles for fuel rather than fat cells for storage.*
This combination of research-backed biomolecules supports this via multiple mechanisms, thereby utilizing a synergistic approach to nutrient partitioning.*
Ratings & Reviews
What's in Performax Labs SlinMax
Serving Size: 2 Capsules

Servings Per Container:

60

Amount Per Serving %DV

Nutrient Partitioning Complex:

Isolyn™(Sodium R-Alpha Lipoic Acid)

250 mg

†

Agmatine Sulfate

750 mg

†

GDA Complex:

Berberine HCL (Phellodendron Amurense)

200 mg

†

Banaba Extract (2% Corosolic Acid) (Lagerstroemia Speciosa) (Leaf)

100 mg

†

Cinnamon Bark Extract (Cinnamonum Cassia)

100 mg

†

Black Pepper Extract (std. min. 95% Piperine) (Fruit)

5 mg

†

Chromium Picolinate

250 mcg

†

* Percent Daily Values (DV) are based on a 2000 calorie diet.

† Daily value (DV) not established.

Other Ingredients:

GELATIN

, SILICON DIOXIDE

, MAGNESIUM STERATE
Directions For SlinMax: Consume 2 capsules 10-20 minutes before a meal containing 50-100g of carbohydrates twice per day, separated by 6-8 hours. Preferably one does should be consumed with per workout meal. For weight loss users should consume 1 capsule 10-20 minutes before a meal containing at least 25g carbohydrates 2-4 times per day.
Warnings: NOT FOR USE OF PERSONS UNDER THE AGE OF 18. DO NOT USE IF YO UARE CURRENTLY BREAST FEEDING, PREGNANT OR PLAN TO BECOME PREGNANT. KEEP OUT OF REACH OF CHILDREN. CONSULT YOUR DOCTOR PRIOR TO USE IF YOU HAVE ANY MEDICAL CONDITIONS OR IF YOU ARE TAKING ANY OTHER MEDICATIONS. DISCONTINUE USE IMMEDIATELY IF YOU EXPERIENCE RAPID HEARGBEAT, DIZZINESS, VOMITING OR OTHER SIMILAR SYMPTOMS.
* These statements have not been evaluated by the Food and Drug Administration. This product is not intended to diagnose, treat, cure, or prevent any disease.
---