Performax Labs
EAminoMax
, 25 Servings Orange Mango
Provides 6g of BCAAs and 1g of Essential Amino Acids Per Serving
Improve Your Recovery and Hydration with Essential Amino Acids, BCAAs and Coconut Water Extract*
Product Overview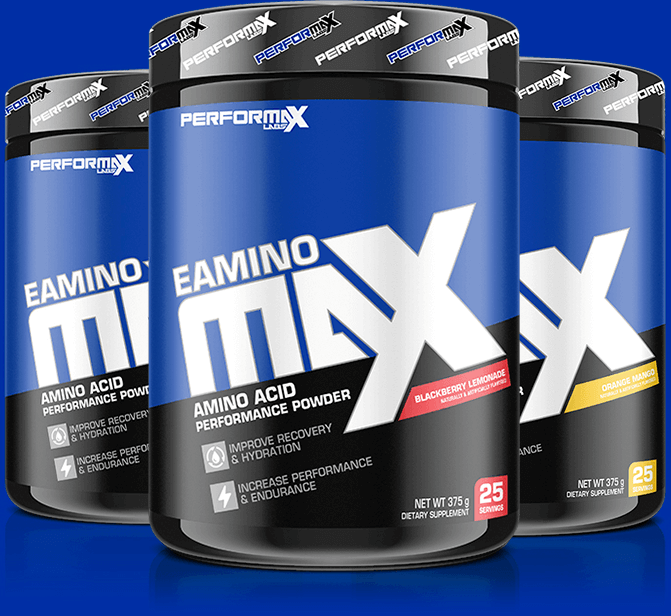 The number one factor that affects your body composition and athletic performance is training. The number one factor that affects training is your nutrition, and part of any complete nutrition plan is appropriate supplementation.
It should come as no surprise that protein is the most important single nutrient to consider, but did you know that proteins quintessential importance is due almost entirely to its essential amino acid (EAA) content? EAAs are very effective for increasing and maintaining muscle mass!*
They're also effective for increasing muscle protein synthesis without adding calories to help attain a lean and muscular physique.* EAminoMax contains all 9 of the essential amino acids, including 3 grams of leucine.
EAminoMax is much more than just an EAA supplement with 2 open-label blends to optimize performance and hydration.*
Ratings & Reviews
What's in Performax Labs EAminoMax
25 Servings

Orange Mango

Serving Size 1 scoop (16g)

Servings Per Container

25

Amount Per Serving

% Daily Value

Branch Chain Amino Acid Complex

L-Leucine

3,000 mg

†

L-Isoleucine

1,500 mg

†

L-Valine

1,500 mg

†

Essential Amino Acid Complex

L-Lysine

300 mg

†

L-Phenylalanine

250 mg

†

L-Threonine

200 mg

†

L-Tryptophan

150 mg

†

L-Histidine

50 mg

†

L-Methionine

50 mg

†

Performance and Endurance Complex

L-Alanyl-L-Glutamine

2,500 mg

†

Taurine

2,000 mg

†

Hydration and Electrolyte Complex

Coconut Water Extract

1,000 mg

†

Potassium Chloride

200 mg

†

Sodium Chloride

150 mg

†

* Percent Daily Values are based on a 2000 calorie diet.

† Daily Value Not Established

Other Ingredients:

Citric Acid

, Natural & Artificial Flavors

, Sucralose

, Acesulfame Potassium

, FD&C Yellow #5

, FD&C Yellow #6
Directions For EAminoMax: Mix 1 Serving in 12-24 ounces of water and consume during workout and/or cardio. Additional servings can be consumed throughout the day to increase amino intake.
Warnings: Not for use of persons under the age of 18. Do not use if you are currently breast feeding, pregnant or plan to become pregnant. Keep out of reach of children. Consult your doctor prior to use if you have any medical conditions or if you are taking any other medications. Discontinue use immediately if you experience rapid heartbeat, dizziness, vomiting or other similar symptoms.
* These statements have not been evaluated by the Food and Drug Administration. This product is not intended to diagnose, treat, cure, or prevent any disease.
---