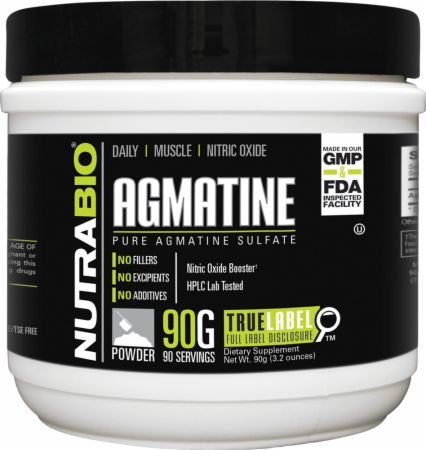 NutraBio
Agmatine
, 90 Servings Unflavored
Agmatine To Support Increased Nitric Oxide And Nutrient Delivery To Muscle Cells*
Formulated To Boost Endurance And Decrease Recovery Time*
Product Overview
Third Party Lab Test Results
Please enter the lot number found on the bottom of your bottle of NutraBio supplements.
SEARCH
What are 3rd Party Lab Tests?
Each and every single ingredient that NutraBio puts in their supplements are rigorously tested for quality and purity. NutraBio is now publicly releasing the results of 3rd party lab tests conducted on their products, so that you can see for yourself how your supplements checked out!
View the date your item was tested, the results of the test, and even the name of the chemist that conducted the test.
Full transparency!
You can view a copy of the results by entering the lot number, located on the bottom of each bottle of NutraBio supplements into the form above.
AGMATINE SULFATE POWDER
Increase Muscular Pumps*
Enhances Nitric Oxide (NO) Production*
Improves Nutrient Delivery to Muscle Cells*
Boosts Endurance and Recovery Time*
HPLC Tested by an Independent Lab*

Without Compromise Since 1996
Founded in 1996, NutraBio is the original No Proprietary Blend, No B.S. honest brand. 15 years ago we revolutionized the supplement industry by introducing 4 quality commitments:
NO proprietary blends and full label disclosure
NO fillers, excipients, or additives (except flavor)
Full efficacious dosages of every active ingredient
Manufacturing our own products to control every aspect of quality.
Two decades ago we set the goal of providing our customers with the most effective, clean and honest supplements available. Since that very first day, we have led the charge in supplement innovation with science-backed therapeutic doses and full label disclosure.
We manufacture our products in our own FDA registered and audited facility. We are GMP certified and manufacture to exceed 21 CFR Part 111 cGMP regulations. We don't compromise on quality so you don't have to compromise on results.

Agmatine, the next generation "Super Arginine" for ultimate Muscle Pumps*
Agmatine is the next generation arginine and is often referred to as "Super Arginine" because of its ability to give explosive increases in Nitric Oxide synthesis. Increased nitric oxide results in vasodilation, which increases blood flow, nutrient delivery to skeletal muscle, and oxygen transport. Increased blood for ultimate muscle pumps. It acts as a neurotransmitter, a precursor to the polyamines and has many other key biological functions within the body.*
NutraBio Agmatine is GMP manufactured to Guarantee Potency and Purity
Nutrabio Agmatine Sulfate is manufactured by us in our own FDA registered and inspected GMP manufacturing facility to meet FDA 21 CFR Part 111 quality regulations. To control quality through the entire manufacturing process we do it all ourselves and never use contract manufacturers. Our Agmatine is HPLC tested by an independent lab to guarantee purity and potency.NutraBio Agmatine is 100% pure and contains absolutely no additives, fillers or excipients. It is free of harmful impurities, undeclared ingredients and is guaranteed to meet 100% label claim. Our Agmatine is so pure we won't even use dyes, so don't expect fancy colored capsules, we leave the gimmicks to the marketing brands.*
The Science and Research behind Agmatine
Agmatine is a metabolic byproduct of Arginine. It is formed within the body after L-Arginine interacts with the enzyme arginine decarboxylase. Agmatine is basically Arginine with the carboxylic acid end removed. Agmatine produces the byproducts guanidino-butyladehyde and the polyamines putruscene, spermine, and spermidine which are involved in cell growth. Agmatine is found in tissues throughout the body and is synthesized and stored astrocytes, glial cells in the brain and spinal cord, which provide structural and metabolic support to the nervous system. Agmatine acts as a neurotransmitter and neuromodulator with a vast array of actions in the body. Agmatine is an imidazoline receptor agonist. Clonidine, another imidazoline receptor agonist, has been noted to stimulate the release of luteinizing hormone (LH). Researchers conducted tests on agmatine and found that it can also modulate the release of LH from its interaction with hypothalamic tissues.*
Ratings & Reviews
What's in NutraBio Agmatine
Serving Size: 1 Scoop (1 gram)

Servings Per Container: 90

Amount Per Serving

%DV

Agmatine Sulfate

1 g

*

Daily Value (DV) not established.

Other Ingredients:

ABSOLUTELY NONE.
Directions For Agmatine:
Take on workout & non-workout days.
Non-workout days: Take 1-2 servings daily with food.
Workout days: Take 20-40 minutes before training.
Warnings: NOT INTENDED FOR USE BY PERSONS UNDER THE AGE OF 18. KEEP OUT OF THE REACH OF CHILDREN. If you are pregnant or breast feeding, consult your health care professional before using this product. People with known medical conditions and/or taking drugs should consult with a licensed physician prior to taking.
* These statements have not been evaluated by the Food and Drug Administration. This product is not intended to diagnose, treat, cure, or prevent any disease.
---