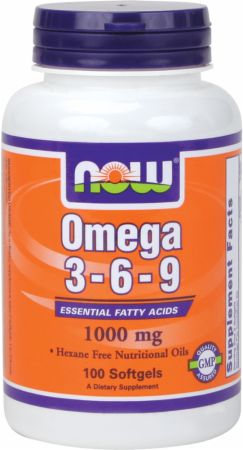 Currently Unavailable
NOW
Omega 3-6-9 Liquid Essential Fatty Acids
, 100 Softgels
Beneficial Oils!
A Balanced Blend Of Fatty Acids Necessary For Many Body Functions!
Product Overview
NOW Omega 3-6-9 provides a balanced blend
of two essential polyunsaturated fatty acids (and their derivatives), necessary for many bodily functions: Omega 3 oils from flaxseed and canola, one type of Omega 6 oil (GLA) from Primrose and Black Currant. Oleic Acid, an Omega 9 oil from canola and flax is a monounsaturated fat not considered essential but does play beneficial roles in human health.
Essential Fatty Acids
Supports Cardiovascular Health*
Hexane Free Nutritional Oils
Ratings & Reviews
What's in NOW Omega 3-6-9 Liquid Essential Fatty Acids
100 Softgels

Serving Size 2 Softgels

Servings Per Container

50

Amount Per Serving

% Daily Value

Calories

20

Calories From Fat

20

Total Fat

2 g

3%*

Saturated Fat

.5 g

2%*

Polyunsaturated Fat

1.5 g

†

Monounsaturated Fat

.5 g

†

Cholesterol

0 mg

0%

Flax Seed Oil (Cold Pressed, Organic)

1,400 mg

†

(Linum Usitatissimuml Seed)

Evening Primrose Oil (Cold Pressed)(Oenothere Biennsi Seed)

300 mg

†

Canola Oil (Cold Pressed)

260 mg

†

Black Currant Oil (Ribes Nigrum Seed)

20 mg

†

Pumpkin Seed Oil (Cucurbita Pepo Seed)

20 mg

Each Serving May Also Provide The Following Naturally Occurring Amounts Of Polyunsaturated Fats And Monounsaturated Fats:

Omega-3 Oils: Alpha Linolenic Acid (ALA)

20 mg

Omega-6 Oils: Linoleic Acid And Gamma Linolenic Acid (GLA)

20 mg

Omega-9 Oils: Oleic Acid

20 mg

Other Oils: Short Chain Fatty Acids, Saturated Fats, Phospholipids, Etc

20 mg

* Percent Daily Values are based on a 2,000 calorie diet

† Daily Value not established

Other Ingredients:

Softgel Capsule (Gelatin

, Glycerin

, Water)

, And Carob.

Contains Fish (Sardines, Anchovies, Mackerel) Derivative. Contains No Sugar, Salt, Starch, Yeast, Wheat, Gluten, Corn, Soy, Milk, Egg, Shellfish Or Preservatives.
Directions For Omega 3-6-9 Liquid Essential Fatty Acids: As a dietary supplement, take 2 softgels 1 to 3 times daily with meals.
* These statements have not been evaluated by the Food and Drug Administration. This product is not intended to diagnose, treat, cure, or prevent any disease.
---