Currently Unavailable
NLA for Her
Her Omegas
, 100 Softgels Lemon
Enhance Your Health*
Supports healthy hair, skin and cardiovascular function!*
Product Overview
NLA for Her
Her Omegas
1000mg Omega 3
Supports brain, heart, vision and joint health!
180mg EPA/120mg DHA*
Joint Support*
Cardiovascular Support*
Her Omegas is our fish oil derived Omega-3 supplement formulated to enhance several aspects of your health. Our all natural formula is loaded with essential fatty acids (meaning that your body can not manufacture them on its own). Essential fatty acids are an important component of every cell in the human body and are necessary for production of new cells and rebuilding existing cells.
Benefits of supplementing with Her Omegas includes:
Anti-catabolic (reduces muscle wasting)*
Enhances recovery time in between training sessions*
Stimulant-free and sugar-free
Tastes delicious and mixes easy with no clumping
Supports resistance to muscular fatigue*
Promotes intra-workout muscular endurance*
We take pride in quality here at NLA For Her and guarantee that each batch of Her Omegas is manufactured under strict quality control standards. Each batch is tested to be free of potentially harmful levels of any contaminants (metals, PCB's, dioxins, mercury, heavy metals, and other harmful contaminants).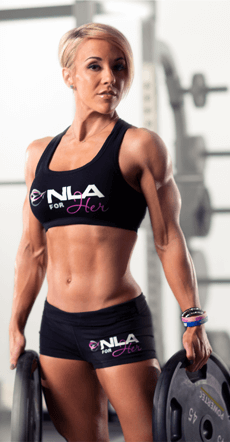 FAQ
with IFBB Figure Pro & NLA for Her athlete Jessie Hilgenberg
What type of supplement is it and what are its benefits?
Her Omegas is a yummy, lemon flavored natural fish oil supplement with 1000mg of Omega-3 fatty acids (EPA & DHA). You can find Omega-3 fatty acids in cold-water fish like shellfish, along with plant and nut oils like walnuts and flax. If you don't get enough of these foods in your daily diet (most of us don't), you must supplement with them.
EPA (eicosapentaenoic acid) and DHA (docosahexaenoic acid) are the most important for several reasons. They each do different things, so you definitely need them both, but you want to look for a higher amount of EPA than DHA (such as Her Omegas) if you are supplementing as part of a fitness program. The more EPA you have in your diet, the less inflammation you have. Chronic inflammation can completely halt muscle growth, so without EPAs, you are letting your body work against all of your efforts in the gym.
Along with the physical and heart health benefits of EPAs, there are not high levels of EPA in the brain, so it is so important to supplement with it to help with depression, ADHD, focus and memory, etc.
As for DHA, it is responsible for breaking up fatty acids in membranes, making it difficult for cancer cells, fat and inflammation to thrive.
How can it help you achieve your fitness goals?
You work hard in the gym, and you need to supplement to support all that hard work. Our diets and bodies do not provide the correct amount and balance of Omega-3 fatty acids, so taking a high-quality supplement such as Her Omegas is the perfect balance. It supports our physical body, our heart and brain. When those aren't functioning optimally, you can exercise all you'd like and you will still struggle with your health. I love that Her Omegas has a fresh lemon flavor - so many fish oil supplements leave a gross taste in my mouth!
Ratings & Reviews
What's in NLA for Her Her Omegas
100 Softgels

Lemon

Serving Size: 1 Softgel

Servings Per Container

100

Amount Per Serving

%DV

Calories

10

Calories From Fat

10

Total Fat

1 g

2%*

Cholesterol

10 mg

3%*

Fish Oil 180/120

1,000 mg

**

Eicosapentaenoic Acid

180 mg

**

Docosahexaenoic Acid

120 mg

**

* Percent of Daily Value is based on a 2,000 calorie diet.

** No Daily Value Established

Other Ingredients:

Gelatin

, Glycerin

, Purified Water

, Mixed Tocopherols (as preservative)

, Natural Lemon Oil.

Contains: Fish (Anchovy, Cod, Mackerel, Sardine) No yeast, wheat, corn, milk, egg, glutens, artificial colors, added sugar or starch
Directions For Her Omegas: As a dietary supplement for women, take 1 capsulte up to 3 times daily with meals.
Warnings: Do not use if pregnant or nursing. Consult a physician before using this or any dietary supplement.
* These statements have not been evaluated by the Food and Drug Administration. This product is not intended to diagnose, treat, cure, or prevent any disease.
---