Product Overview
Alphadex
(High Performance Leaning, Hardening Agent)
Advanced Hardening Matrix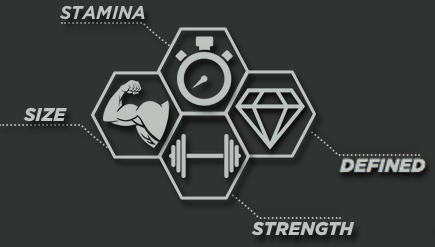 250MG
Brassaiopsis Glomerulata
"A SOFT, BLOATED LOOK." THESE THREE WORDS ARE NEVER A DESCRIPTION OF HOW YOU SHOULD WANT TO LOOK. YET, HOW MANY OF US STILL FEEL THIS WAY? WE TRY DAY IN AND DAY OUT TO GET THAT HARD, DRY, GRANITE-LIKE LOOK. BUT IN THE END, VERY FEW OF US EVER ACHIEVE IT. UNTIL NOW. WELCOME TO ALPHADEX: THE GOLD STANDARD LEANING AND HARDENING AGENT.* YOU WILL DEFY LIMITATIONS.
Ratings & Reviews
56 Capsules
56 Servings | $0.89 Per Serving
What's in Myokem ALPHADEX
Serving Size: 1 Capsule

Servings Per Container: 56

Amount Per Serving

%DV

Alphadex™ Estro-Control Matrix

455mg **

Safflower extract (Carthamus tinctorius) (std. min 10% Tracheloside)(seeds)

**

Brassiopsis glomerulata extract (20:1)(leaf)

**

Acacetin (4'-Methoxy-5,7-dihydroxyflavone) Derived from Damiana (Turnera diffusa)(leaf)

**

Mangosteen (Garcinia mangostana) extract (std. min. 9% Gamma Mangostin)(Fruit Peel)

**

Bioperine® Black pepper (Piper nigrum) extract (std. min. 95% Piperine)(fruit)

**

Percent Daily Value (%DV) not Established

Other Ingredients:

Maltodextrin

, gelatin

, magnesium stearate

, silica

, FD&C Yellow #5

, FD&C Yellow #6

, titanium dioxide.
Directions For ALPHADEX :
SUGGESTED USE FOR TRAINING DAYS ONLY: Take 1 capsule in the morning and 1 capsule in the evening with food. For best results, take each serving at the same time each day. DO NOT EXCEED 2 CAPSULES IN A 24 HOUR PERIOD. Drink plenty of water during training to avoid dehydration. DUE TO EXTREME POTENCY, DO NOT TAKE FOR LONGER THAN 8 WEEKS BEFORE DISCONTINUING FOR A MININUM OF 4 WEEKS. Store in a cool, dry place. Discard after expiration date.
Warnings: This product is only intended to be consumed by healthy adults 18 years of age or older. DO NOT USE IF PREGNANT OR NURSING. Before using this product, seek the advice of a physician or licensed health care professional especially if you are taking any prescription or over-the-counter medication or other dietary supplement product or if you have any pre-existing medical conditions. Specifically DO NOT take if you have or are at risk for high or low blood pressure, stroke, heart disease, seizure disorders, diabetes, kidney, liver or thyroid disease, migraine headaches, asthma, psychiatric disease, HIV, AIDS, dermatitis, have difficulty urinating due to prostate enlargement, or if you are taking a MAO inhibitor., consuming any other product containing stimulants including ephedrine, ephedrine alkaloids, pseudoephedrine or phenylpropanolamine or are prone to dehydration or are exposed to excessive heat. DO NOT exceed the recommended serving under any condition as it will not increase benefits. This product should be used in conjunction with proper diet and exercise. Before beginning any weight loss program, consult your health care professional. Discontinue use and call a health care professional immediately if you experience any adverse reaction including rapid heartbeat, dizziness, severe headache, shortness of breath, or similar symptoms. KEEP OUT OF REACH OF CHILDREN.
* These statements have not been evaluated by the Food and Drug Administration. This product is not intended to diagnose, treat, cure, or prevent any disease.
---