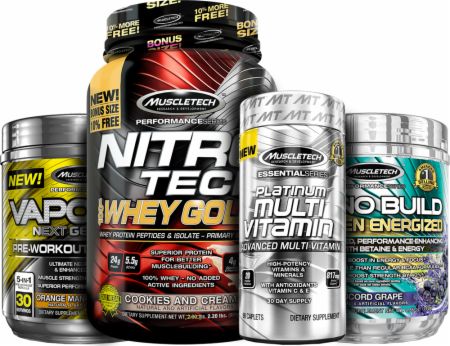 MuscleTech
Buff Dudes Stack
,
Combo For Supporting Muscle Growth, Boosting Endurance And Recovery*
Stack Your Results!
Product Overview
MuscleTech NITRO-TECH 100% Whey Gold
Along with micro-filtered whey protein isolate plus whey concentrate, NITRO-TECH® 100% WHEY GOLD delivers superior absorption, digestibility and mixability. Each scoop serves up 24g of ultra-premium protein that supplies 5.5g of BCAAs and 4g of glutamine and precursor.
NITRO-TECH 100% WHEY GOLD uses a superior cold microfiltration process to guarantee a higher quality whey protein. Combined with an award-winning flavor profile, NITRO-TECH 100% WHEY GOLD is as good for your taste buds as it is for your muscles!
Rapid-absorbing hydrolyzed whey peptides to improved nutrient delivery*
5.5g of anabolic BCAAs and a class-leading 4g of glutamine and precursor for better muscle protein synthesis and recovery*
Superior cold microfiltration process yields a high biological value undenatured whey protein
---
MuscleTech Platinum Multivitamin
Platinum Multivitamin is a complete, advanced multivitamin complex designed for bodybuilders, active individuals and even elite athletes for general health support.* This scientifically designed formula delivers a complete micronutrient profile that hard-training athletes are looking for. It's packed with ingredients including essential vitamins, minerals and even an Amino Support Matrix plus an Herbal Matrix.
Platinum Multivitamin has been engineered to deliver 20 vitamins and minerals, including 100% or more of your daily requirements for vitamins A, C, D, E, B6 and B12! Each serving also delivers a unique spectrum of minerals and digestive enzymes for a truly complete formula!*
High-Potency Vitamins & Minerals
With Antioxidant Vitamins C & E*
---
MuscleTech Vapor X5 Next Gen Pre-Workout
MuscleTech® researchers reinvented the pre-workout category again. VaporX5™ Next Gen is the most complete pre-workout product available. It delivers unparalleled energy, extreme muscle pumps and performance, a surreal sensory experience plus scientifically validated musclebuilding power!* This intense formula has everything you could possibly want in a pre-workout and nothing you don't – zero underdosed key ingredients or fillers. VaporX5™ Next Gen delivers uncompromising potency and power for the best workouts of your life!
Extreme energy and sensory*
Maximizes Pumps*
---
MuscleTech Amino Build Next Gen
Branched chain amino acids (BCAAs) have been used by top bodybuilders and other athletes for years due to their ability to support training endurance and recovery!* BCAAs are comprised of three powerful amino acids – leucine, isoleucine and valine – and are perfect for any hard-training athlete because they serve as primary building blocks for muscle and help combat muscle loss and protein breakdown, especially during intense training.*
And while many BCAA powders deliver these basics, most BCAA or amino powders are not based on scientific research, nor are they designed to enhance performance. MuscleTech® researchers knew this when they created the original AMINO BUILD® formula, and that's why they engineered more than just another "me too" amino formula. Instead, AMINO BUILD was developed with elite athletes in mind and formulated with clinically researched ingredients that drive peak performance – including a massive dose of BCAAs, clinically researched doses of leucine, and betaine – that other amino formulas simply didn't have.*
Enhances strength*
Boosts endurance and builds muscle*
Ratings & Reviews
Directions for Buff Dudes Stack:
Follow the directions on the products' label.
Warnings: Read the warnings on the products' label.
* These statements have not been evaluated by the Food and Drug Administration. This product is not intended to diagnose, treat, cure, or prevent any disease.