Muscle Beach Nutrition
Muscle Beach Bundle Box
Get everything you need to head to the gym in style with the Muscle Beach Bundle Box
Includes Pre-Train Pre-workout, shaker, funnel, t-shirt, keychain & a drawstring bag to hold all your gear!
Product Overview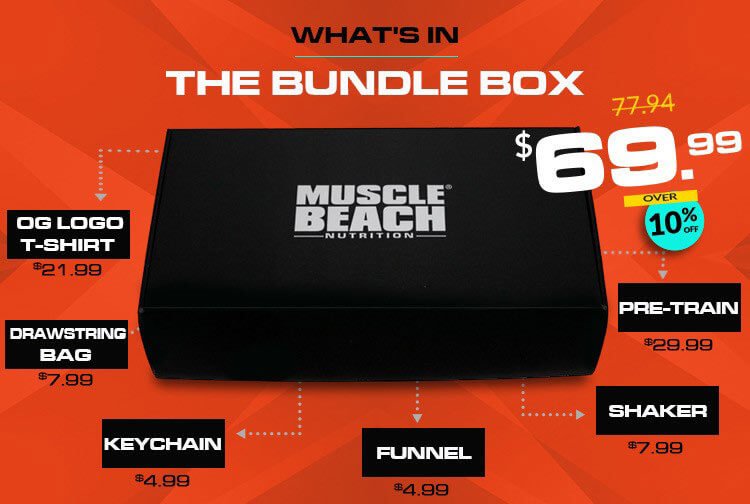 What's In The Box?
Product: Pre-Train
Apparel: OG Logo T-Shirt (S-XXL)
Accessories: Drawstring Bag, Muscle Beach Shaker, Fill N' Go Supplement Funnel & Muscle Beach Keychain
Extra: Muscle Beach Sticker
*Sand Not Included
Why the Bundle Box?
Muscle Beach is visited by millions every year! But for the people who aren't fortunate enough to come see us, we wanted to make a special package for you. We wanted to put together a bundle that not only showcases one of our premier products, but also gives the customer an opportunity to take Muscle Beach home with them, and for a discounted price. With 6 branded items and a custom Muscle Beach Bundle Box, you can now rep Muscle Beach in your hometown! #MuscleBeachBundleBox GET FEATURED
Ratings & Reviews
What's in Muscle Beach Nutrition Muscle Beach Bundle Box
2XL - Grey Shirt

Tigers Blood Pre-Train

Serving Size: 2 Scoops (17.80 g)

Servings Per Container: 25

Amount Per Serving

% Daily Value *

Calories

5

Total Carbohydrate

1 g

<1%

Sugars

1 g

†

Vitamin C (as ascorbic acid)

400 mg

667%

Niacin

15 mg

75%

Calcium (as calcium silicate)

55 mg

4%

Magnesium (as magnesium glycerophosphate)

25 mg

6%

Sodium (as sodium glycerophosphate)

25 mg

1%

Potassium (as potassium glycerophosphate)

25 mg

<1%

L-Citrulline

4,000 mg

†

Betaine Anhydrous

2,500 mg

†

Arginine Nitrate (as NO3-T®)

1,500 mg

†

Beta-Alanine (as CarnoSyn®)

1,500 mg

†

Taurine

1,250 mg

†

L-Tyrosine

500 mg

†

Choline Bitartrate

400 mg

†

Caffeine Anhydrous

300 mg

†

Acetyl-L-Carnitine

250 mg

†

L-Theanine

200 mg

†

* Percent Daily Values are based on a 2,000 calorie diet.

† Daily Value not established.

Other Ingredients:

Natural & Artificial Flavors

, Citric Acid

, Malic Acid

, Silicon Dioxide

, Sucralose

, FD&C Red #40

, Ace K

, Beet Juice Powder.

Allergen: Contains Milk and Coconut.
Directions For Muscle Beach Bundle Box: Pre-Train Directions: Mix 1 scoop in 8-10 oz water. Drink 30-45 minutes prior to training. Gradually increase to a maximum of 2 scoops daily.
Warnings: Use only as directed. This product is for use by healthy adults only and not to be sold to or used by anyone under the age of 18. DO NOT USE if you are pregnant, expect to become pregnant, or are nursing. Consult a physician before using this or any dietary supplement or before starting any diet or exercise program. CONSULT A PHYSICIAN BEFORE USE if you have been treated for, diagnosed with, or have a family history of any medical condition, are taking any prescription or over-the-counter drug, including but not limited to antidepressants (such as MAO inhibitors), stimulants, allergy medications, anti-hypertensive drugs, medications for other cardiovascular conditions (such as blood thinners), or medications that may negatively interact with increased dietary nitrate intake. DO NOT USE if you are taking nitrates for chest pain, medications for erectile dysfunction (such as PDE-5 inhibitors), or other nitrate-containing dietary supplement. One serving (2 scoops) of this product contains 300 mg of caffeine (as much as in about 3-4 cups of coffee). DO NOT USE if you are sensitive to the effects of caffeine. Limit the use of other caffeine and stimulant products while using this product. Some individuals may experience a harmless tingling sensation from beta-alanine. IMMEDIATELY DISCONTINUE USE and call a physician if you experience any adverse reaction. Discontinue use two weeks prior to surgery. KEEP OUT OF REACH OF CHILDREN. Store in a cool, dry place away from sunlight, moisture, and heat. Always keep tightly sealed. Do not use if safety seal is broken, missing, or has been tampered with.
* These statements have not been evaluated by the Food and Drug Administration. This product is not intended to diagnose, treat, cure, or prevent any disease.
---