MHP
Xpel Maximum Strength Diuretic
Herbal Water Loss!*
Supports Water Loss Beneficial for Both Men and Women!*
Product Overview
Proudly supports first responders & nurses with Bodybuilding.com and ID.me. Verify Here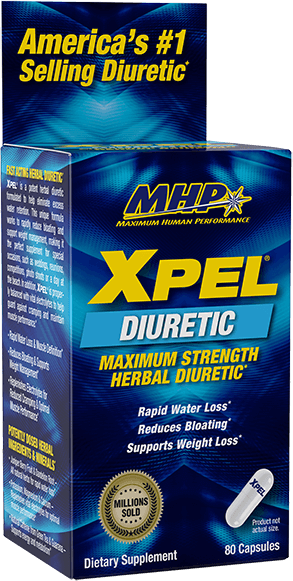 Time-Proven Formula
Millions of Americans have chosen Xpel to help them shred unwanted water weight fast*
Powerful Herbal Diuretic for Men & Women*
Rapid Water Loss & Increase Muscle Definition*
Reduces Bloating & Supports Fat Loss*
Perfect For Special Occasions & to Boost Confidence
Added Electrolytes to Avoid Cramping*
All-Natural Ingredients
Xpel
Get Cut With This Science Driven Muscle-Defining Formula
Millions of Americans Have Chosen Xpel to Help Them Shed Unwanted Water Weight Fast.* Xpel is an extremely powerful herbal diuretic scientifically formulated to eliminate excess water retention.* This unique formula works to reduce bloating and supports fat loss, making it the perfect diuretic.* To guard against cramping, Xpel supplies the proper balance of vital electrolytes to help maintain muscle performance and fullness.* Xpel is perfect when you need to look your best and keep your confidence high – competing, preparing for a special event or occasion, or simply going to the beach.
Juniper Berry Fruit & Dandelion Root
These natural herbs help to quickly shed unwanted water weight so you can look your best fast.*
Potassium, Magnesium & Calcium
Replenishes vital electrolytes for optimal muscle performance*
Green Tea & Guarana
Supports clean energy and fat burning*
#MHPStrong
Ratings & Reviews
What's in MHP Xpel Maximum Strength Diuretic
Serving Size: 1 Stick Pack (7.6g)

Servings Per Container:

20

Amount Per Serving

% Daily Value †

Calories

15

Total Carbohydrate

3 g

1%†

Dietary Fiber

1 g

3%†

Vitamin B6 (as Pyridoxine HC)

50 mg

2,941%

Calcium

200 mg

15%

Magnesium

100 mg

24%

Potassium

90 mg

2%

Advanced Herbal Diuretic Matrix

1,200

mg

‡

Herbal blend [uva-ursi leaf (Arctostaphylos uva-ursi), juniper berry (Juniperus communis), dandelion 5:1 extract (whole plant) (Taraxacum mongolicum), horsetail extract (aerial parts) (Equisetum arvense) (7% silica), hydrangea root (Hydrangea arborescens), buchu leaf (Barosma betulina), couch grass rhizome (Agropyron repens), cornsilk stylus (Zea mays)]

Muscle Performance Electrolytes

986

mg

‡

Calcium Carbonate, Potassium Citrate, Magnesium Oxide, and Calcium Gluconate

Slimming & Energy Boosting Complex

120

mg

‡

Green Tea Leaf Extract, and Guarana Seed Extract, (providing 75 mg caffeine)

† Percent Daily Values are based on a 2000 calorie diet.

‡ Daily Value (DV) not established

Other Ingredients:

Maltodextrin

, Citric Acid

, Natural And Artificial Flavors

, Ammonium Chloride

, Guar Gum

, Silica

, Sunflower Lecithin Emulsifier

, Beet Root (for color)

, Sucralose

, and Beta Carotene (for color)
Directions For Xpel Maximum Strength Diuretic:
Capsules: Take 4 capsules with 16 oz. of water twice daily - once in the morning and once in the afternoon. Drink at least 6 to 8 glasses of water daily. Do not exceed recommended dosage.
Stick Packs: Mix 1 stick pack with 12-16 fl. oz. of cold water, until dissolved. For maximum water loss: consume 2 servings daily, 1 in the morning and 1 in the afternoon. Drink at least 6-8 glasses of water daily. Do not exceed 2 servings daily.
Warnings: This product is strictly intended for use by healthy persons 18 years of age or older. Contains 75 mg caffeine per serving. Caffeine intake is not advisable in cases of high blood pressure, heart problems, pregnancy, or nursing. Do not combine with use of caffeine-containing medications, foods or beverages while taking this product because too much caffeine may cause nervousness, irritability, sleeplessness and, occasionally, rapid heartbeat. Do not exceed the recommended dose. Not intended for persons under the age of 18. For adult use only.
* These statements have not been evaluated by the Food and Drug Administration. This product is not intended to diagnose, treat, cure, or prevent any disease.
---