MHP
Creatine Monohydrate
, 300 Grams Unflavored
Mixes Easily And Instantly!
Supports Increased Muscle Mass and Strength!*
Product Overview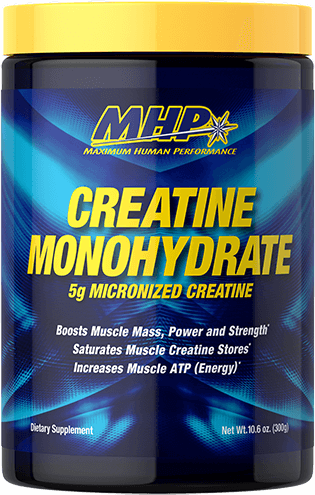 Fuels muscles to get bigger and stronger!*
5g Creatine Monohydrate
Saturates Muscle Creatine-ATP Stores*
Boost Strength, Power and Muscle Mass*
Increases Muscle ATP (Energy)*
MHP's Creatine Monohydrate Creatine is a naturally occurring substance in our bodies; it helps volumize muscles, increases strength and power, provides energy to the muscles and buffers lactic acid.* Creatine helps regenerate muscle ATP (Adenosine Triphosphate), our bodies chief fuel source. This increased level of ATP allows you to increase your workload and sustain it over longer periods of time.* Creatine supplementation essentially "fuels" muscles to get bigger and stronger!*
Creatine Monohydrate the Most Clinically Studied ingredient in Sports Nutrition
#MHPstrong
Ratings & Reviews
What's in MHP Creatine Monohydrate
Serving Size:1 Scoop (5 g)

Servings Per Container:

60

Amount Per Serving

Creatine Monohydrate

5 g

‡

‡ Daily Value not established
Directions For Creatine Monohydrate: During the loading phase, take 1 scoop 4 times per day for 5 days. For the maintenance period, take 1 scoop daily. Add to any pre or post-workout drink.
Warnings: Keep out of reach of children. Store in a cool, dry place. Protect from heat, light and moisture. Do not purchase if seal is broken.
* These statements have not been evaluated by the Food and Drug Administration. This product is not intended to diagnose, treat, cure, or prevent any disease.
---